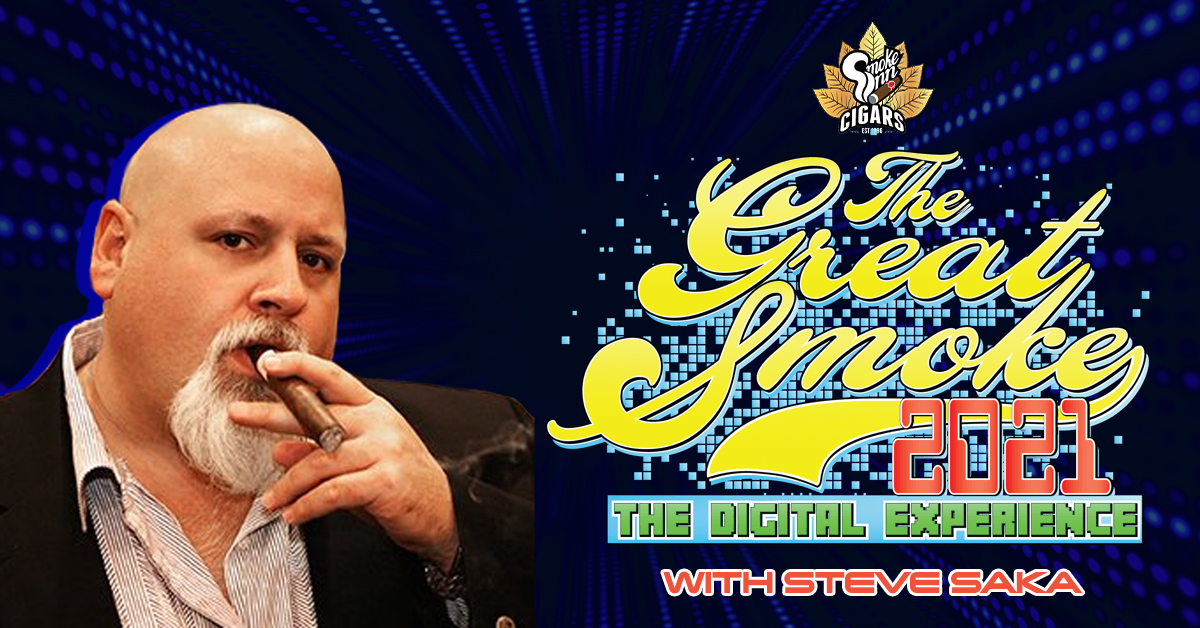 Steve Saka of Dunbarton Tobacco & Trust cigars is a cigar legend, master blender, and the former CEO of Drew Estate. His early dedication to tobacco blending paid off after creating the Drew Estate Liga Privada blend. This blend is what established his reputation in the cigar industry.
Now, he is the proud owner of Dunbarton Tobacco & Trust cigars and highly regarded globally for producing high-quality cigars to companies and distributors. Some of his most successful products include:
Steve even created a craft Dunbarton Tobacco & Trust cigar collaboration with Smoke Inn called the Red Meat Lovers. This stick was the first-ever premium cigar that was intentionally blended to pair perfectly with a robust steak dinner.
He was finally able to sit with Abe Dababneh in the Smoke Inn lounge at the Great Smoke 2021 for an interview and some cigar talk. Catch the full interview here.
Dunbarton Tobacco & Trust Cigars – The Steve Saka Interview
Abe Dababneh: You're a larger-than-life personality, and the world knows you primarily for tobacco. However, what were your aspirations when you were younger? What would a 16-year-old Steve Saka be dreaming about right now?
Steve Saka: do you want the truth? When I was 16, my aspiration was to be intimate with Deborah Joe Fondren; she was the playmate of the year when I was 16. But career-wise, I've never been a master planner; I enlisted in the navy when I was 17; Cindy and I got married at 19, we had a baby almost. Immediately…I've been a grinder all my life.
Q: So, you just moved back from Nicaragua?
A: Yes, I was the first white boy to make it back, and it's surprising because I'm in Nicaragua, driving around with the truck, and people are yelling across the street, "Sucker! Socker!" because they probably haven't seen anybody fat and white for almost a year. It was insane.
Q: That's great, but is it nice to be back?
A: I have to be back; I'm a real hands-on guy, and to be honest with you, I'm way behind the curve for 2021. Everything I did in 2020 that got released was work that I had done in 2018 and 2019. So, for me, I have to do it myself; it's part of what I do, and it's part of me being a pain in the behind.
Q: What do you look forward to in this spirit of returning to normalcy?
A: What I look forward to most is to be able to take those monthly trips to Nicaragua because I really need to be there about seven active workdays every month to make sure that everything is going according to my desire.
This last year we were doing the quality control checks on our end, and I probably destroyed maybe 10 – 11,000 cigars opening boxes. That's typically something that every month when I'm there, I can look at the production before it gets put in the boxes, and I haven't been able to do that since.
When you're a small guy competing with big companies, they have the shelf space, sales team, marketing dollars, and brand recognition; the only thing to do is my cigars must be better because that's the only place that I can compete.
Q: In all seriousness, did you ever think that Red Meat Lovers club would produce such a result? Because we got beat up this year, and I want your take on it.
A: Let me say that it wasn't our goal; I don't believe in limiting cigars; if people want to buy them, I want to make them. The only limit is if I can't make them the same quality and consistency.
With Red Meat Lovers, we had done that before, I had the materials, but we had to pull the trigger in March of last year to know how many to make. We had no clue, so we're picking out several cigars that we might sell in November.
It's not our goal to disappoint a consumer, and we're going to find a way to fix that issue. We're gonna take orders and reservations in March for a minimal fee. You reserve your Red Meat Lovers Cigar and don't have to worry about when or how it comes.
For a minimal fee, you can reserve your red meat lovers club and indicate how many you want, then a link will be sent to your email. You can complete the payment like a minimal deposit, and it will automatically ship to you.
Q: Please tell us about this newly added feature that you commandeered on your own.
A: If you're a ticket holder and buy the limited edition, the DTT, you are instantly in a raffle for one of the mega Sasquatch. These are rare and nice and are only meant for stores since they cost me about 350 dollars due to the mold cost.
So far, there's only one consumer that's won one in a raffle. In addition, if you buy any of my products today, you're in a raffle for a 500 dollar gift certificate from my friends at the Smoke Inn to buy any Dunbarton Tobacco & Trust cigars.
Q: You made this new release called the DTT EX38; tell me about this product.
A: This is a blend that I started working on in 2016. There's a tobacco variety grown in Costa Rica that they typically call Marone. Marone is a San Andreas seed that they grow in Costa Rica primarily as a wrapper crop.
However, they ended up with these small short, tiny leaves that you really couldn't make into a cigar wrapper, so I started playing with it. It's got this weird, musty, chocolatey, soft red pepper nature. It's a really unique taste, so I wanted to play around with it and eventually got this blend, the 38th iteration.
I don't think there are cigars like these on the market.
Q: What else is going on? What do you have from here?
A: Nothing much right now, just God bless our customers; they got me in a tailspin as we are just so behind on so many of our products. Nevertheless, I'm thankful, and I'll grind harder, just work harder.
About Dunbarton Tobacco & Trust Cigars
"Puros sin compromiso" or "Cigars without compromise" is the motto at Dunbarton Tobacco & Trust cigars. Each handmade cigar honors the hard work of the artisans who dedicate their lives to creating an unparalleled smoking experience.
Order your Dunbarton Tobacco & Trust cigars online now and get fast delivery.