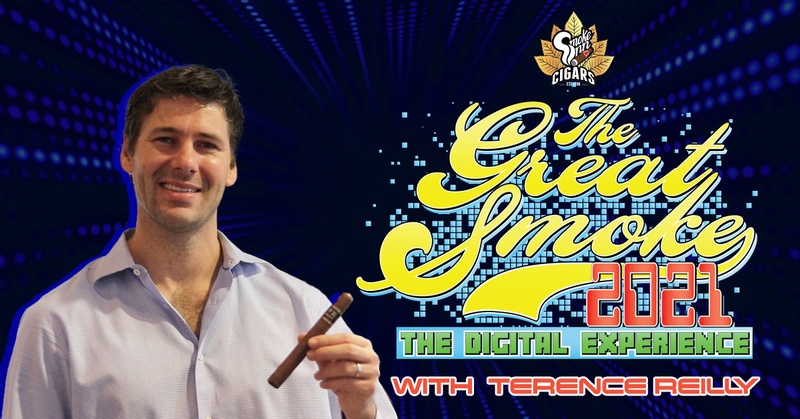 Terence Reilly is the current vice president of Aganorsa Leaf cigars. With a concrete foundation in the tobacco industry, he brings a wealth of expertise to the position. A dedicated executive, Terrance is an expert salesperson, public speaker, manager, and more. His affinity for cigars makes him a force in the cigar business.
Aganorsa Leaf cigars are a popular brand in Nicaragua and are famous for supplying premium cigars around the world. Their leaves are grown solely on their estate and produce a special, high-quality smoke. Each puff offers a clean and rich experience unlike other cigars.
A few of their most popular cigars include:
Terence sat with Abe Dababneh at the Smoke Inn Lounge during The Great Smoke 2021 to have some cigar talk.
Catch the full interview here.
Abe Dababneh: So, you are with you Aganorsa Leaf, and it's pretty much dubbed by yourself since the first thing you did after joining the company is to brand the name, which is now Aganorsa Leaf. How did you come up with that name?
Terence Reilly: So, the growing company is called Aganorsa, and every company tries to separate itself in its own way and for us, what makes us different is the leaf we grow. So, it made sense to make that the focus of the brand, which is the tobacco that we grow, and so we named it after the growing company.
This name made more sense than the original Casa Fernandez, a popular name with no uniqueness. Besides, if customers look through the phone book for cigar recommendations, Aganorsa puts us on the list.
Q: For many years as a company, Casa Fernandez flew under the radar and didn't have many stores to talk about. All of a sudden, Aganorsa Leaf came, and people were talking about it. You even have some releases such as the lunatic, night watch, the anniversary of Cuba, 109, supremely…what do you attribute to this sudden shift; this kind of culture that Aganorsa Leaf has developed?
A: Well, I think we just brought attention to the brand. Like you said, it flew under the radar; the best cigar you've ever heard of is one you don't really smoke. So, we worked with our retail partners and connected to our customers through social media, and tried to show them what we were doing and why it's different. I think that's the primary key thing.
Because at the end of the day, when you or a consumer says, "Hey, Aganorsa is really great, you've got to try it." It does a lot, and that's what we're aiming for; the only metric of our success is the enthusiasm for the product from our retail partners and consumers.
Q: Terrace, let me ask you: I think we've had similar experiences; we were not born into tobacco, didn't major in agronomy, and we've also had the good fortune to work for companies. Mainly, my experience with the Sherman family was fantastic because you got to work for a family legacy and balance that outsider versus insider part of the family.
You're technically not part of the family – an employee – but you treat it like a principal, and I think you have really embraced that philosophy. I was just curious: how is that for you; how do you balance and straddle that line inside and outside?
A: Well, again, for me, it's principally about myself; I put a lot of pride in what I do, and I think that's the number one thing is that whether I'm working, I put a lot of effort into it. Also, I always feel if I was the person coming up and dealing with somebody like myself, I want them to behave the way I try to act.
I think that's a big part of it, and then again, also you realize that you have the objective viewpoint of seeing yourself outside when you're in the family company. Sometimes it's easy to get trapped in that thought process if everybody sees things the same way, and you can kind of take yourself out of that to some degree and shift your perspective.
You know, by putting blood, sweat, and tears into it, you have that connection with it as well, and so you care; that's really the most significant thing – intent and concern. I mean, "does this person care about the company?" And that's what we always look at when we hire people and take partners.
Q: Terence, let me ask you; you were a road warrior, a lot of us were; I mean, the climate of our industry demanded that you hit the road, beat the street, go store to store…but you were stationary probably longer than you've ever been in the industry.
How has that changed your approach now, moving forward as you manage your time, thinking about how to plan out your time? Do you want to get back to the pace that you were before? Do you believe that Covid-19 has brought a different philosophy about approaching sales calls and others? What has Covid done to your perspective as you now come to normalcy again?
A: So, I think it opened the door where it's a traditional industry, and so we're usually the last to grab new technologies, but Covid-19 opened the doors where guys that you would never think would have a zoom call were willing to do it right.
So, that opened the door, and I think it's going to be kind of a mixture between meeting online and offline. I still believe it is essential to see people in person; that's one of the really great things about this industry because intimate connection makes in-person doing things like we're doing right now, like having a cigar, a drink, and a conversation.
It's essential, but there are lots of places that are hard to get to or that you can't get to as often as you like, and that's really an opportunity where we can do these zoom calls, and we can do these new things that we've developed over the last year.
So, it's a mix of both options; I don't think it's going to be one extreme or the other. However, I definitely think that if you can still get enough person-to-person contact in critical moments and utilize the new technologies the rest of the time, I think that's a home run.
Q: Now, have you anything new planned for 2021? I mean, you just came out with a rare Leaf the other day; tell us more about it.
A: Usually, when you plant tobacco, you have specific fields that will produce unique tobacco, which you either dilute into other blends or can create a limited edition. However, the problem with limited editions is that there are never enough products to satisfy the demand.
The idea is to have our top accounts or Aganorsa privileged accounts to have consistent access to rare Leaf to fix this problem.
Q: What are Aganorsa privileged accounts?
A: These are accounts with people that have offered a certain level of support to Aganorsa and our brands, and in return, we do various things to help your business, and one of them is providing things like rare Leaf where you're going to be the only type of stores that have access to it due to the support.
Q: So, Terence, you're one of the guys who I asked if you could make us something special for the great smoke. Once again, you started brainstorming what you want to do, and you came up with the Anniversary Great Smoke Edition. Tell us about this cigar.
A: So, this last summer, we came out with the Anniversary 109 Maduro, our anniversary line, which is a fine line as it's one of our ultra-premium lines. This past summer, we released only 250 boxes of original release, and that was national.
Q: Let me ask you a question because there's a retailer I got to ask: who do you think you're doing a favor when you make 250 boxes for a national release?
A: Sometimes it will drive customers to your store because people are looking for it, so they'll call different stores and people. They'll also contact our partners who might have limited amounts and encourage them to buy other products. That's why we make 250 boxes.
Q: Is this a similar cigar in different packaging?
A: This blend was terrific; it got rave reviews; it's probably my favorite blend that we've done since I've been with the company, and I thought it was terrific. Again, my opinion doesn't even matter, we're here to sell cigars, and we have to display different types of flavor profiles that suit people's tastes. But personally, I thought this blend was absolutely incredible.
About Aganorsa Leaf Cigars
In 1998, Eduardo Fernandez went to Nicaragua to grow the finest tobacco in the world that captured the essence of the Cuban cigars of old. He and a world class team of Cuban agronomists worked to recreate the style and aroma of Cuban leaf using traditional Cuban methods in conjunction with the resources available to them in Nicaragua. The tobacco they cultivated is named "Aganorsa Leaf".
Order your premium Aganorsa Leaf cigars now and get quick delivery to your doorstep.