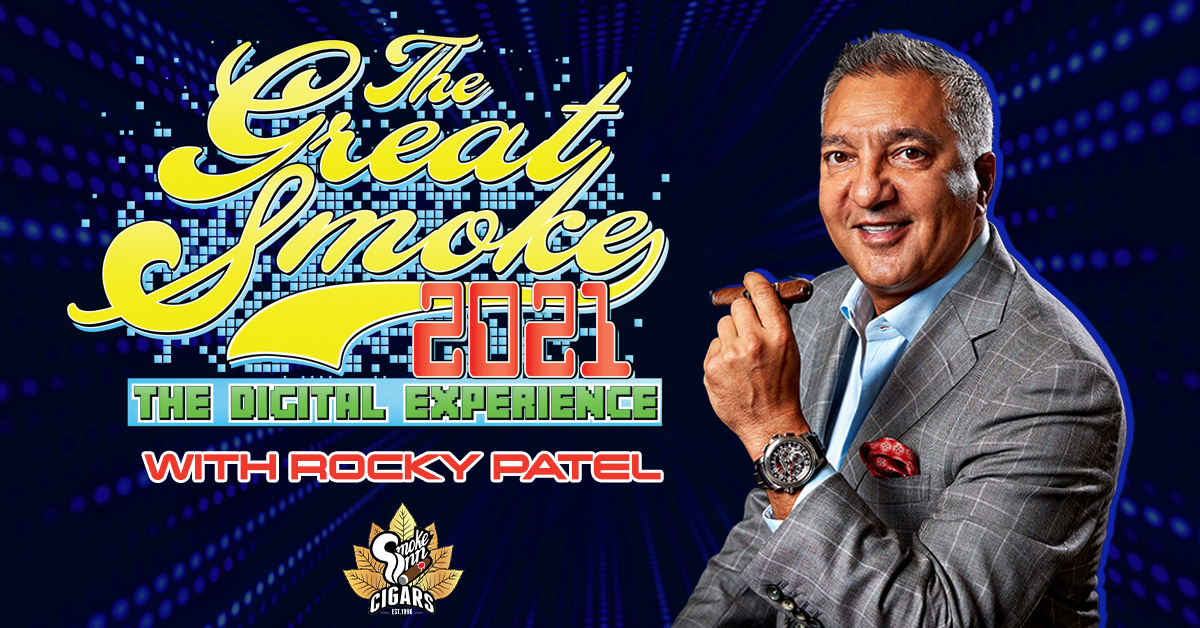 Rocky Patel is the owner of the world-famous Rocky Patel Cigars. His brand is known by millions as one of the best brands for high-quality cigars. Despite Rocky's busy traveling schedules and responsibilities, his enthusiasm remains constant. He always takes time to visit shop owners and talk to cigar enthusiasts. He wants you to meet the man behind your favorite cigar.
Rocky Patel Cigars has a portfolio that is vast with a continual mix of premium cigars. A few of his famous brands include:
Rocky's company outshines many multimillion-dollar corporations because he builds his business one customer at a time. In March 2021, he sat down with Smoke Inn Cigars founder Abe Dababneh to talk about The Great Smoke 2021 (TGS2021), the effects of the pandemic, his successes, plans for his life, business, and the world-renowned Rocky Patel Cigars.
Catch the full interview here.
The Rocky Patel Cigars Interview
Abe Dababneh: Everyone please give a warm welcome to Rocky Patel.
Rocky Patel: I'm loving this! Amazing, amazing Abe. I mean you always think outside the box and this is really great for the industry. It's great for all the consumers, for the manufacturers, to hold the family together.
You know this is such a unique, unique, hand-crafted, artisan industry. We get a chance to meet everybody, hang out with everybody, share our cigars, have great cocktails, food, and COVID kind of stopped all that but here you are bringing this to everybody's home and it's awesome. I've got to thank you for it. It's wonderful and I know you put a lot of hard work into this. A lot of passion in this.
I was back there, and I mean these guys produced the Grammys or the Golden Globes. I mean there's a team of engineers, television engineers back here, I wish you could see it at home. There's a lot of work going into this show. I'm so proud of you. That's awesome. I'm blown away. Congratulations. Cheers!
Q: Recently, you've been doing cooking videos with Kirk Kennel in his house and kitchen. Does this mean you're slowing down from the hardworking life where you're always actively doing several events in a 30-day month?
A: Well, it has been exciting since I'm absolutely slowing down compared to 25 years ago where I was living on the road, visiting stores, and getting only four or five hours of sleep daily.
This pandemic has been a life-changing experience for me. I finally got to ride my bike around the neighborhood, go horseback riding, watch the television, and visit friends. I didn't have much to do with myself, so I took the opportunity to work out, cook, enjoy people, see the mountains in New Hampshire, go fishing, and all the above.
Q: You mentioned cooking earlier, and while almost everyone became a chef during Covid, you are a real chef. I've had your cooking, and it's just unbelievable. Where did you develop this skill?
A: I think my mom was an excellent cook who taught the entire family cooking, thereby giving us a passion for food. So, ever since I was six years old, I was always in the kitchen trying recipes and always going out there to practice new things and work on them. Sometimes, I'd eat something new and want to go home and make it the following week.
Q: So, if you have one last meal that you're gonna make, what would it be?
A: It'll probably be a combination of some french dishes and Italian dishes since I like to do a lot of eclectic stuff right now. I've also been working on many Thai, Korean, and Japanese foods, which I really didn't have a lot of experience because they are more complicated since the ingredients are harder to get, but I'm working on it.
I'd like to visit northern Japan and spend a couple of weeks and just eat at some of the finest Japanese restaurants and enjoy myself. But ultimately, this has really been a great
year as it's been life-changing. I feel like I spent 25 years sacrificing family, friends, and relationships, and I'm gaining that all back.
I'm even slowing things down at the office, and everything's on autopilot, we have a great team, and the folks at the office are just incredible.
Q: That's good for you, Rocky, because you and I were having lunch literally 10 years ago today, and you were turning 50 then, and we're talking about life, and now your 60th birthday is coming up. So yeah, it's good for you; it's time for you to relax and chill. What do you think?
A: Yeah, it's nice when you can actually cultivate the genuine relationships, bonds, and kinships you have with your family and friends and spend more time with them. I plan on spending a lot more time with my parents, who are 85 and 86. So it's just been great to slow down and really enjoy life and see it from the other side.
Q: I'm glad you're getting that opportunity now. Outside the cigar business, you've got
some trendy lounges called Burns lounge.
A: Yes, but many of them were closed through the pandemic. So we've been struggling a little in that area.
Q: This means you got to experience the suffering on two sides – shipping the product and selling it.
A: Exactly, but luckily there's a boom right now because the people are at home and have an opportunity to enjoy more cigars, but we can't make them fast enough. There's been a significant back-order situation throughout the entire industry. We're all trying our best, and since we're a product that takes so much skill, artisan, and quality control, it's not something you can merely pump out faster. We're all mindful of keeping the consistency and quality of our products.
Nevertheless, the lounges are great. They present an excellent opportunity for people to enjoy cigars in a fun environment, and they're starting to open up.
Q: How many lounges do you have now?
A: We have five in Pittsburgh, one in Indianapolis, one in Atlanta, one in Naples, and one in Oklahoma City. But they'll get it back up and running since Florida is fantastic. We have an amazing governor, and we're very, very blessed compared to the northeast.
I went up there and couldn't even get a meal. I stayed in a hotel and had to carry my own
luggage up. There's no water, no coffee, and no food. It took me an hour and a half to find a place to just get lunch.
Q: When we initially thought about doing this event, we came to you and asked you if you would make us something special you made us these age-limited rare cigars. Tell us about this specific Great Smoke release.
A: We have so many different brands and so many different cigars in the last several years. I decided to start making limited cigars batches that I could age in a unique humidor for two years.
We would actually take aged tobaccos, make the blend, and put them away under lock and key for two years. So, it wasn't like we went in there and smoked the cigars after four months, six months, 12 months, or 14 months to see what the cigar developed.
We literally waited two years, and we made 2,000 boxes of three different sizes in the age-limited rare. They were sold out right away, and so I thought that would be an exceptional cigar.
We made this in a specific size called the Bala size. It was developed by Hamlet, who comes from Cuba. It's a little bit bigger in the middle and has tapers a little towards the end. We made a hundred boxes of the age limit. They're rare and these cigars have been aged for two years made for you, and only a hundred boxes were made. I think people are gonna enjoy that cigar well.
About Rocky Patel Cigars:
With factories in Nicaragua and Honduras, Rocky Patel cigars are top-rated. Many varieties have outstanding ratings of 93 and above. The Rocky Patel Number 6 Cigar won Cigar Journal's "Best Honduran Cigar of 2020" award.
Order your Rocky Patel cigars online now and get fast delivery right to your door.