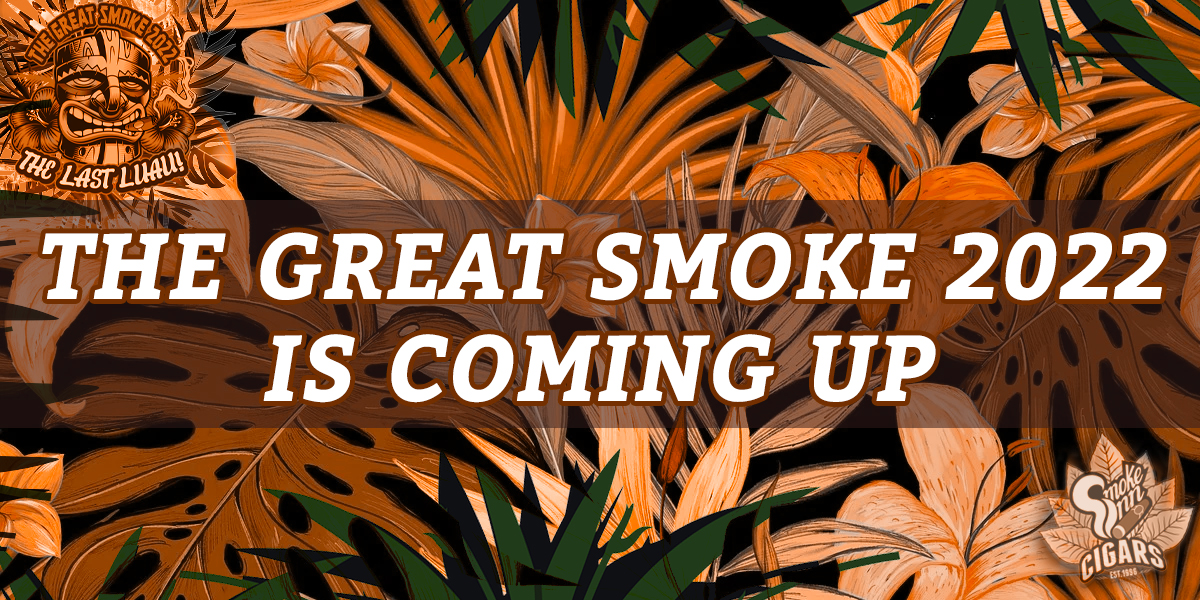 The most wonderful time of the year for cigar lovers is almost here! The Great Smoke (TGS) is the place to be for the best smokes. A chance to mingle with industry legends, and spread some good old fashion aloha spirit! The February 26th event has the dub TGS 2022: The Last Lua. It is sure to be the biggest, the best, the final word in cigar smoker events. So, get ready for an island experience like no other!
The Great Smoke 2022 Highlights
The Great Smoke 2022 offers something for all cigar enthusiasts, no matter the level of taste or experience. Ticket holders will get a treat to a diverse collection of cigars, food, drink, and so much more. Here are just a few of The Last Lua's many delights:
Four days of cigar events, including pre and after parties

40 premium cigars

Swag bag filled with must-have goodies

Event exclusive cigars and event specials

Virtual broadcast 

Beer, liquor, and wine tastings

Four food stations

Live music
All of these and so much more are set to make The Great Smoke 2022: The Last Lua an unforgettable island adventure. You don't want to miss it. Check out the official TGS 2022 website to purchase tickets and get all the latest about planned events, cigar legend attendees, lodging info and more.
Smoke Cigars With Industry Legends
TGS 2022 offers a great opportunity to meet with some of the biggest names in the cigar industry. So, kick back with cigar legends and enjoy a smoke in a relaxed island atmosphere. They will share tips about their creations and their passion for cigars. This year's list of scheduled attendees is a virtual who's who of cigar manufacturing families, including Perdomo, Micallef, Padron, and Rocky Patel. Other familiar cigar personalities set to attend the event include Janny Garcia of My Father Cigars, Christian Eiroa of CLE cigars, Pete Johnson of Tatuaje, Rick Rodriquez of CAO, Robert Caldwell, Alec and Bradley Rubin, and many more. 
Two Ways to Attend TGS 2022
Traveling can be frustrating or downright impossible for many, especially during these crazy times. So, with the enormous success of last year's digital TGS event, there are now two ways to enjoy The Great Smoke 2022 experience: in-person AND virtually. 
Virtual: Tune into Smoke Inn's Facebook or YouTube page the day of TGS starting at 12 pm EST. 
In-Person: Arrive at South Florida Fairgrounds – 9067 Southern Blvd, West Palm Beach, FL 33411 Event gates open at 1 pm EST for base ticket holders and 12 pm EST for VIP guests.
If you can't make TGS 2022 in person, don't worry. Not only can you enjoy the live event broadcast while relaxing comfortably in your own home, but you will also get the swag bag and cigars shipped to you. You'll even have the same opportunity to get exclusive event cigars and take advantage of event specials as those attending in person. If you want to attend virtually, make sure to get you tickets immediately. They are extremely with limitation. There is a restock of Online tickets after already selling out once, so make sure you get your virtual tickets now if you want to attend online!
Exclusive Event Cigars and Online Events
Anticipation builds each year as The Great Smoke exclusive event cigars are released on the run-up to the main event. This year's exclusives are shaping up to be the most legendary yet! Available only to TGS 2022 ticket holders, exclusive event cigars are introduced during live online release events by cigar manufacturers. This year's TGS exclusive event releases are offered by :
Terence Reilly of Aganorsa Leaf

Steve Saka of Dunbarton Tobacco & Trust

Erik Espinosa of Espinosa Cigars

Matt Booth of Room 101 

Henderson Ventura of Adventura
With only 300 to 500 boxes available, the best way to get event exclusive cigars is by taking part in online events scheduled to release each event exclusive cigar. Tickets must be purchased before live release events to be eligible. Cigars will be offered at the TGS 2022 event, but due to extremely limited quantities, this is subject to availability. 
Why You Need Tickets
Tickets are necessary to enjoy the best benefits of The Great Smoke 2022: The Last Lua. Event tickets provide you entrance into the main event. It includes various outside events as well as the 40 cigars and swag bag. Delicious food items and beverage tastings are also included with tickets. You also want to have a ticket to procure exclusive event cigars during live online releases and TGS event specials on the day of the event. A ticket automatically enters you in a raffle for amazing prizes too! 
Other Planned Events
A single day, two days, not even three are enough to contain the cigar-smoking bliss of the Great Smoke 2022: The Last Lua has to offer, so there are numerous other events planned across four days to keep the party going strong. Some events require separate tickets, while others are open to all. Here is a taste of the great times scheduled for the weekend of TGS 2022:
TGS Kickoff Party 
A free event hosted by Alec and Bradley Rubin of Alec Bradley Cigars at Smoke Inn West Palm Beach on Thursday, February 24th at 7 pm.
Pre-Event Party
A free event hosted by Rocky Patel Cigars at Smoke Inn Boynton Beach on Friday, February 25th at 7 pm.
Private Lua Dinner
An exclusive event hosted by Red Meat Lovers Club and Steve Saka of Dunbarton Tobacco & Trust at South Florida Fairgrounds on February 25th at 7 pm. Extremely limited availability. Separate Lua Dinner tickets are required.
TGS Studio Experience
Live, in-studio interview sessions with cigar legends hosted by Michael Herklots of Ferio Tego cigars on February 26th throughout the day of the TGS event. Separate tickets are required.
TGS After Party
A free event hosted by Robert Caldwell of Caldwell Cigars at Smoke Inn West Palm Beach on Saturday, February 26th at 7 pm.
After Party
An event hosted by Scott Weeks of Recluse Cigars at Spearmint Rhino West Palm Beach on Saturday, February 26th at 7 pm. TGS lanyard provides free admission.
Post TGS Brunch
An event hosted by Renier Lorenzo of HVC Cigars at Smoke Inn Boynton Beach on Sunday, February 27th from 12 pm to 3 pm. $35 all-you-can-eat with bottomless Bloody Marys and Mimosas.
The Cigar Smoking Party of the Year
With two different ways to attend, along with amazing cigars, swag, food, beverages, music, and an unforgettable island vibe, The Great Smoke 2022: The Last Lua is the cigar party to end all cigar parties. So, join cigar lovers from across the land as South Florida is transformed into a cigar smoker's island paradise. Get your TGS tickets today!