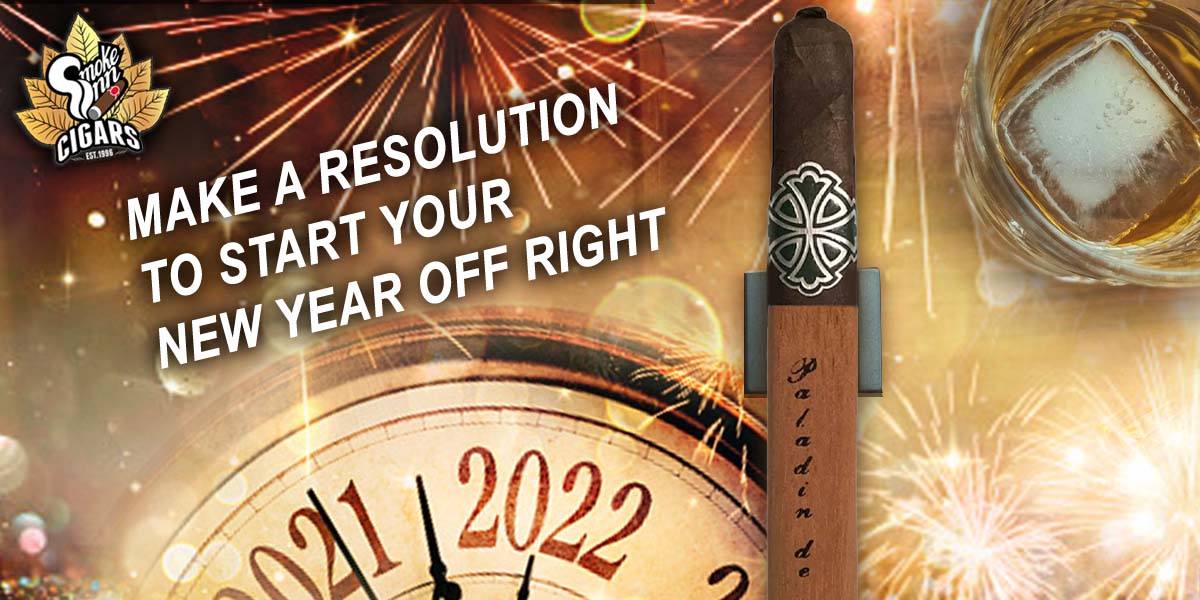 With another year in the books, it is time to reboot and look towards a brand-new year. It will be full of cigar smoking opportunities. That means getting after a new set of resolutions to take your cigar smoking game to another level. This brief guide shows you how to make cigar resolutions to start the New Year off right with tips for enjoying pairings, new releases, and events throughout the New Year.
New Year Cigar Resolutions
New Year cigar resolutions are a great way to dive deeper into the world of cigars and push the boundaries of your cigar experiences. Using a V-cutter instead of a guillotine to cut your cigars, smoking a cigar with a different wrapper style, or trying a different size than you are used to are examples of resolutions that offer ways to compare and contrast different cigar styles and techniques. 
Here are a few more cigar resolution ideas you might use to fill the New Year with lasting cigar adventures:
Try 5 new cigars a month

Try at least one new cigar pairing per week

Attend a cigar-smoking event

Start a cigar journal

Upgrade your

cigar lighter

or humidor

Visit a cigar factory
There are many possibilities for New Year cigar resolutions that offer a rewarding challenge to move out of your comfort zone. Of course, you want attainable resolutions, but why not aim high! Once you have settled on a cigar resolution, all you have left is to grab cigars, spark up, and enjoy the experience! 
Best Cigars for the New Year
With your cigar resolutions in place, you can zero in on the cigars to help fulfill those resolutions. Exploring new cigar types or brands can be a satisfying journey and a fun New Year's escape. There is a wide spectrum of cigars from which to choose, so to help you start the year on the right foot, enjoy these best cigars for the New Year:
Sin Compromiso Paladin de Saka
A bolder, small-batch addition to Steve Saka's Sin Compromiso line, the Sin Compromiso Paladin de Saka is a richly complex flavor bomb that is sure to be a cigar-smoking highlight of the new year. 
Espinosa La Trenza
Erik Espinosa continues to create cigar-smoking gold with each release, such as the exclusive Espinosa La Trenza Culebra, a sumptuously entertaining smoke no matter the time of year.
Rocky Patel White Label
The top-shelf Rocky Patel White Label is a delectable treat crafted around 10-year aged tobaccos that help deliver one of Patel's most elegantly smooth and deeply flavorful smokes to date. 
Drew Estate 20 Acre Farm
Drew Estate's 20 Acre Farm's intricate blend is highlighted by select tobaccos from a 20-acre plot in Clermont, Florida. The result is a smooth and buttery expression you'll want to revisit throughout the year.
Ferio Tego Generoso
Michael Herklots resurrected classic Nat Sherman blends under his Ferio Tego banner, yet he is also developing wholly original blends. The rich and smooth Ferio Tego Generoso is a blockbuster New Year's smoke and versatile pairing option.
Best Pairings for the New Year
One way to guarantee a winning New Year's resolution is finding a delicious cigar pairing. No matter the occasion, you can create satisfying cigar pairings any day of the year. Here are five cigars that deliver the best pairings for the New Year.
1.Avo Classic Maduro
The Avo Classic Maduro from Davidoff makes for other-worldly coffee pairings no matter the time of year.
2. Hiram & Solomon Fellow Craft
Fellow Craft cigars' clean, crisp character and intricate flavor profile are ideal for pairing with classic martinis. 
3. Oliva Serie V 135th Anniversary Edicion Limitada
Oliva's Serie V 135th cigars have the perfect depth and complexity to pair with rum or whiskey for an unforgettable after-dinner escape. 
4. Amendola Signature Series Cannoli San Andres
Amendola's Cannoli series is specifically blended to enjoy after dinner, with the savory Cannoli "Red" San Andres an ideal partner for Café Corretto and cannoli. 
5. Southern Draw Kudzu
There is no better match than a cigar and bourbon, and the Southern Draw Kudzu delivers a pairing you can count on 365 days a year.
What to Look Forward to in the New Year
Each new year brings anticipation for a plethora of new events and cigars. Whether new cigar companies or existing cigar brand extensions, there are always new cigars to be had. Many cigar manufacturers create limited-run exclusives released at different points throughout the year, so keeping an eye on what's ahead can unveil a treasure trove of resolution-worthy cigars and events.
Here is a sampling of what to look forward to in the New Year:
Davidoff Year of the Tiger
Davidoff's 2022 Limited Edition offering is primed for the top spot on your New Year resolution cigar list. The luxurious 5 ½" x 52 Piramides cigar features three proprietary hybrid Dominican tobaccos surrounded by an Ecuadorian Connecticut wrapper to deliver an unforgettably bold and complex expression.
Upmann Nicaragua AJ Fernandez Heritage
AJ Fernandez offers a new take on one of the oldest and most prestigious cigar brands with the H. Upmann Nicaragua AJ Fernandez Heritage. This hotly anticipated offering will ignite the tastebuds with a full-flavored Nicaraguan blend topped by a triple fermented Brazilian Mata Fina wrapper leaf. 
The Great Smoke 2022: The Last Lua
The Great Smoke (TGS) is one of America's biggest cigar-smoking parties with fine food, beer, spirits, and live music to go along with premium cigars from the industry's best. The 16th Annual TGS: The Last Lua at the South Florida Fairgrounds is primed to be one of the biggest and best yet. Resolve to get tickets to the February 26th event for a chance to get event exclusive cigars from:
Aganorsa Leaf

Dunbarton Tobacco & Trust

Espinosa Cigars

101 Cigars

ADV Cigars
With these new releases and event exclusives, the New Year promises many exciting coming attractions that can make for memorable and rewarding New Year resolutions. 
Make Your 2022 The Year of the Cigar
You can make and achieve your New Year's cigar resolutions with the latest and greatest cigars, accessories and special events lined up throughout the New Year. So, keep track of all the goings-on and find your "resolution" cigars at Smoke Inn today!