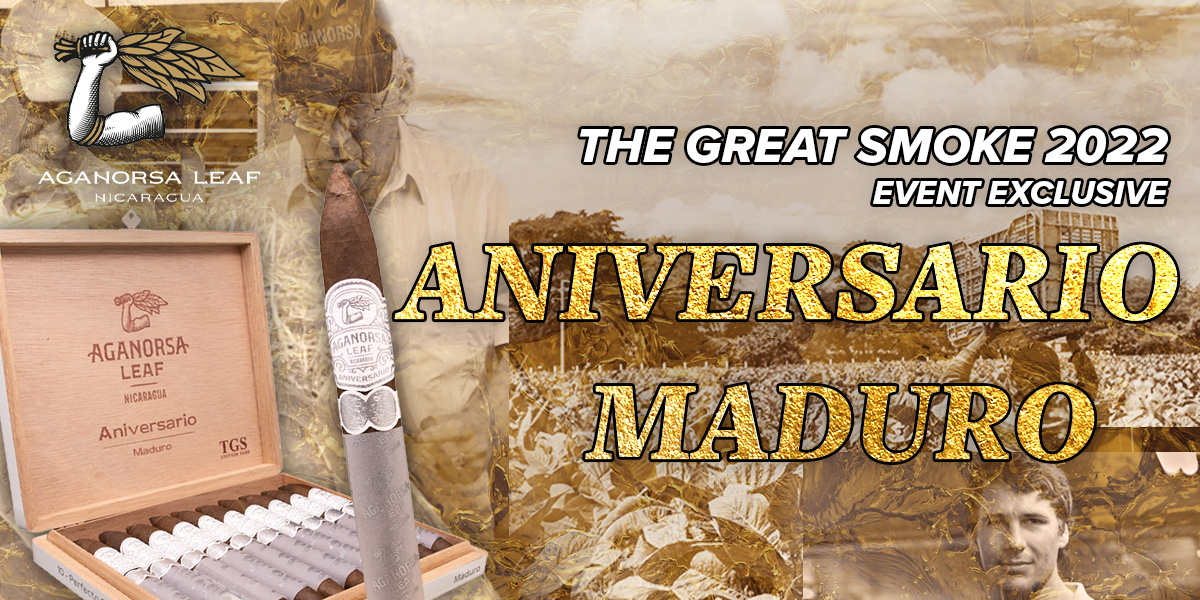 The Great Smoke (TGS) 2022: The Last Luau countdown has begun! That means it's time for exclusive cigar releases for the 16th annual cigar-smoking extravaganza. The first cigar out of the gate is a limited production Perfecto from the folks at Aganorsa Leaf. Wrapped in a Nicaraguan Corojo Maduro leaf. The exclusive TGS 2022 Aganorsa Leaf Aniversario is loaded with the voluptuous Nicaraguan Aganorsa tobaccos. This is for which the Fernandez family has become so renowned. 
TGS 2022 Aganorsa Leaf Aniversario Overview
The first in a series of exclusive cigars for the Great Smoke 2022? The Aganorsa Leaf Aniversario event exclusive is the first Maduro-wrapped Perfecto in the Aganorsa Leaf Aniversario line. The 6 ¾" x 52 Nicaraguan Puro is rolled at Aganorsa Leaf's cigar factory in Miami, Florida. It uses Aganorsa Leaf's famous Aganorsa Corojo and Criollo tobaccos. Moreover, a proprietary Shade Grown Corojo Maduro wrapper from Jalapa. 
Aganorsa Leaf Aniversario cigars are among the brand's most sought-after offerings, captivating cigar lovers since first releases under the Casa Fernandez Aniversario name. The addition of the extremely limited Aganorsa Leaf Aniversario Maduro Perfecto to the TGS 2022 line-up makes it the first must-have cigar of the season, further adding to the growing legend that is Aganorsa Leaf. 
The Aganorsa Leaf Aniversario Maduro TGS 2022 Exclusive cigar at a glance:
Wrapper: Proprietary Nicaraguan Shade Grown Corojo Maduro

Binder: Nicaraguan Aganorsa

Filler: Nicaraguan Aganorsa

Size: 6 ¾" x 52

Vitola: Perfecto 
Production has a limitation to only 500 boxes of 10 cigars each.
The Aganorsa Leaf Story
Eduardo Fernandez followed his career as a New York-based investment banker. Also as a co-owner of a successful pizza delivery service in Spain. He has sights on the abundant agricultural opportunities found in Nicaragua. He has the determination to grow tobacco of a character that harkened back to the golden years of Cuban cigars. Fernandez hired a team of Cuba's most experienced tobacco-growing experts. By 1998, it was off and running.
Nicaragua's rich, volcanic soil proved ideal for growing the deeply textured tobaccos Fernandez desired and soon, his tobaccos were in demand by cigar makers throughout the industry. The growing agricultural conglomerate Fernandez built was Agricola Nortena S.A. or AGANORSA, so the unique tobacco he and his team developed became known as the Aganorsa leaf. While Fernandez is focusing on tobacco cultivation, he starts into the cigar-making business in 2002 with the purchase of Tropical Tobacco's cigar operations. This allowed Fernandez and his team of experts to control every step of the cigar-making process, from seed to cigar store shelves. 
By 2010, Fernandez and his cigar makers had created a dedicated following of cigar enthusiasts with the Casa Fernandez and JFR cigars brands. However, there was confusion among cigar enthusiasts about who made what and where. So, to create a clearer identity in the cigar industry, the decision was made in 2010 to rename the company Casa Fernandez. Unfortunately, this still did not alleviate the problem, which only became murkier with the addition of the highly regarded Guardian of the Farm line. Finally, Fernandez brought aboard cigar sales and marketing guru Terence Reilley to help initiate another rebranding. The team wisely chose Aganorsa Leaf to bring a sharp focus on the tobaccos at the heart of the company's success.
Today Fernandez and company oversee one of the largest tobacco-growing concerns in Nicaragua. The Aganorsa team has battled hurricanes, climate change, political and economic uncertainties, and pandemics along the way to carve out a place as some of the most respected names in the cigar-making business. This respect has grown from the quality of the Aganorsa leaf and cigar-making ability and from Eduardo Fernandez's willingness to share the fruits of his labor.
Fernandez is not afraid to allow clients, including Illusione, Warped, Viaje, Reinier Lorenzo's HVC, and many others, to create blends that might offer better expressions of Aganorsa tobacco. Yet Aganorsa Leaf's cigar portfolio is itself filled with exquisite cigars that showcase the richly textured Nicaraguan tobaccos for which the Fernandez family is so well known. 
Aganorsa Leaf Cigars
Aganorsa Leaf cigars are handmade in two Nicaraguan cigar factories in Esteli and Jalapa and a smaller factory in Miami. The deep character of the Aganorsa tobacco offers a wide variety of experiences, each providing a unique link to Cuban cigars of old. Popular lines currently available under the Aganorsa Leaf banner include:
Aganorsa Leaf

Casa Fernandez

Guardian of the Farm

JFR

Buena Cosecha

New Cuba
The Aganorsa Leaf Aniversario Maduro TGS 2022 exclusive event release is a rare, finely crafted complement to these other Aganorsa Leaf cigars and the ideal way to savor the Aganorsa Leaf experience.
How to Get TGS 2022 Exclusives
The Aganorsa Leaf Aniversario Maduro Perfecto and other TGS event exclusive cigars are available to TGS 2022 ticket holders during virtual release events. Visit the Event Exclusives page during the scheduled TGS virtual event to purchase. Tuning into these online events is the best way to secure TGS exclusives. Cigars may be purchased after the release event, depending upon availability. However, these TGS event exclusive cigars are extremely limited in number and likely to sell out. 
TGS 2022 Event Exclusives Release Line-up
Several of the cigar industry's best cigar makers are also lending their creative expertise to TGS 2022 event-exclusive cigar releases. Each offering will be available during a special online release event. Along with Aganorsa Leaf, cigar makers contributing to TGS 2022 event exclusives include:
Dunbarton Tobacco & Trust
Online event featuring Steve Saka, December 29th @7 pm EDT.
Espinosa Cigars
Online event featuring Erik Espinosa, January 12th @ 7 pm EDT.
Room 101 Cigars
Online event featuring Matt Booth, January 26th @ 7 pm EDT.
ADV Cigars
Online event featuring Henderson Ventura, February 9th @ 7 pm EDT.
Event tickets is purchasable before virtual events to reserve event-exclusive cigars. 
Get the Party Started with Aganorsa Leaf
Whether attending The Great Smoke 2022: The Last Lua at the South Florida Fairgrounds or from the comfort of home through the TGS Virtual Event, you don't want to miss the very limited event exclusive cigars from Aganorsa Leaf. So, get ready for cigar smoking paradise and buy your TGS 2022 tickets today!