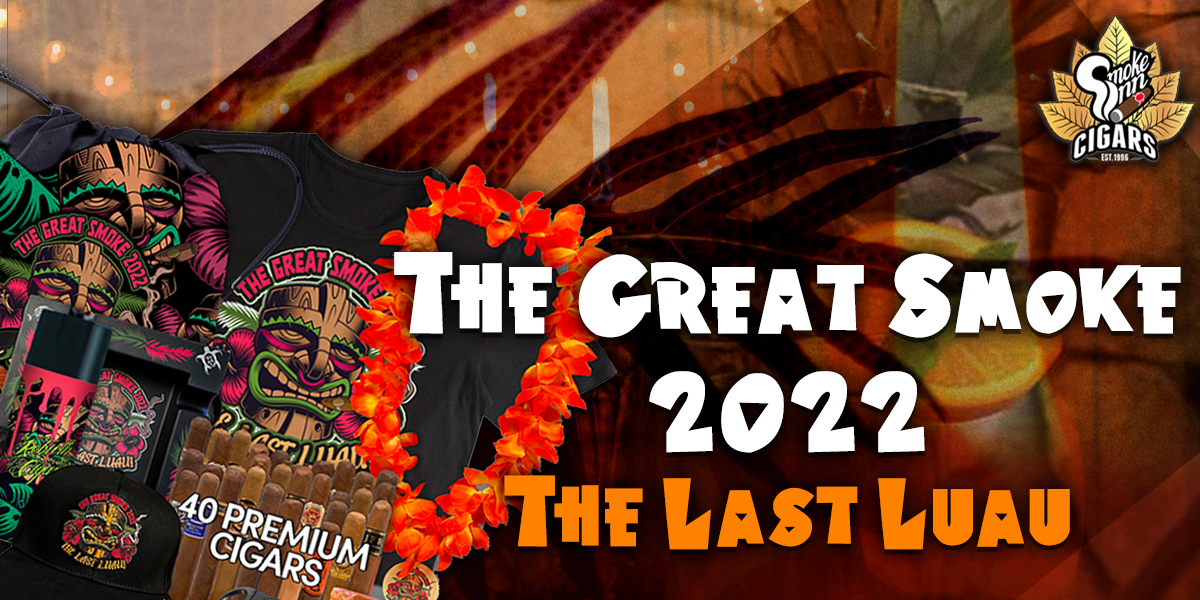 For cigar smokers around the nation, The Great Smoke 2022 is the place to be. One of the biggest cigar events will be back and be better than ever this coming year: smoke some of the best and most exclusive cigars, meet with some of the most influential personalities and cigar makers of the industry, and experience live music, beer, food, and much more.  
The Last Luau 
A luau is a traditional Hawaiian culture that has been carried forward for generations; it is a time for celebration with friends and family. Carrying forward the same idea, The Great Smoke 2022 wishes to infuse the celebratory nature of the Luau in this mega cigar event this February.
This year we will be putting on a tropical Hawaiian themed event which will encompass a full blast of parties and after-parties. What better way to experience the best of what cigar smoking has to offer, than in a tropical paradise?
There will be so much to do at the event. We have special guests, fun activities, good food, and of course, great cigars. Relax with a nice drink, smoke some exclusive cigars, mingle with the hula girls, or go to a booth and learn more about what different brands in the cigar industry have going on.
During The Great Smoke, event exclusives will be made available to those who've purchased a ticket, and offered through virtual events with the manufacturer prior to The Great Smoke's official start.
Attendees will need to have purchased a ticket to The Great Smoke AND register for the virtual events in order to have access to the event exclusive cigars.
Accommodates Both Virtual and Live Attendees
We have opened the doors of this long-running event to virtual attendees as well, to accommodate everyone! The event will host special segments of TGS 2022 from the studio for virtual attendees, and Michael Herklots of Ferio Tego will be the host for the virtual panel. This studio will feature interviews with many giants in the industry and discuss and broadcast the festivities from around the event so virtual attendees can see and experience it all from the comfort of their home.
We will also send the virtual attendees their own party packs. These party packs will be the same ones that live attendees will receive: a box containing some awesome and unique items like cigars exclusive to the event.
For the live attendees, we will be putting on the event at the South Florida Fairgrounds. This large venue is perfect for hosting multiple activities, making it the perfect setup for The Great Smoke 2022! Michael Herkalots and Kim Keeney are returning as event hosts for the second year in a row. We will have many activities: pre-event, post-event, and in between. This means that you can stop by at any time and find an activity to partake in. When heading over to the event, make sure that you prepare for an unforgettable tropical experience that showcases and delivers some premium cigars, wonderful live music, a delicious meal, and a warm, welcoming environment.  
Red Meat Lovers Club 
One of the best foods to complement a cigar is red meat.  The after-taste of a well-prepared steak cleanses the palate and prepares the taste buds to enhance the flavor profile of a cigar. Want to experience this combination for yourself? Start making preparations now to join us for The Great Smoke in person.
The Red Meat Lover's Club is ready to host the pre-event dinner for us once again in 2022. This time, they will prepare a Kau Kau-style meal, including an assortment of different meats and succulent roasted pigs. All dinner guests will get to experience an exclusive RML release. Steve Saka will be the host of this year's private dinner. He is a special and familiar personality of all TGS events, and is a big contributor to the cigar industry as a part of the Dunbarton Tobacco & Trust. 
The Schedule
The TGS event will start on Thursday, February 24th, with a Kickoff Party hosted by Alec and Bradley Rubin. Come on down to the Smoke Inn Lounge in West Palm Beach, where we will get things kicked off with some exclusive cigars and major prizes that you will want to get your hands on.
Following the Kickoff Party, we have another pre-event party that Rocky Patel Cigars will host at Smoke Inn Boyton Beach on Friday the 25th of February. This party offers alcoholic beverages, cigar specials, and more. 
One last thing before the main event gets underway is the Exclusive Private Luau Dinner at South Florida Fairgrounds. Following the dinner will be the main event starting on Saturday, February 26th, from 1 pm to 5 pm. Attendees that have purchased the VIP passes will be allowed to come in an hour early.  
An Exclusive Time
As a cigar aficionado, activities of The Great Smoke 2022 are something that you cannot miss. The event is definitely worth the visit as it offers once-in-a-lifetime experiences. It will expose you to some of the most exclusive products and manufacturers of premium cigar brands.  
Get Tickets Now
Tickets are available now, and will go fast, so do not wait, and get your tickets before they are sold out. People from all over the nation will be coming by, so you should book your spot early. Click here to purchase your  tickets online, and we will see you at The Great Smoke 2022!