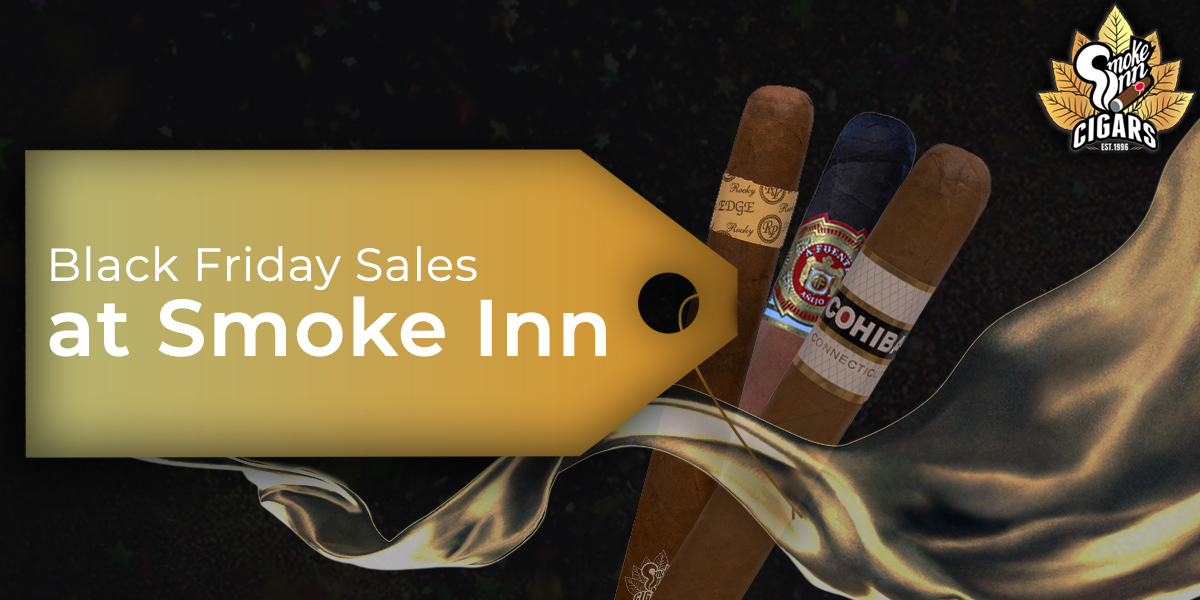 Smoking cigars is an esteemed winter tradition for many, and it's not a proper holiday celebration without a curated cigar collection to offer guests that come to your home. Do you have all your favorites stocked and ready at the end of a long day? Get ready, because we have some sales coming up that you're going to want to take advantage of. The end of the year brings with it the best sales everywhere, and Smoke Inn will be a part of the action. We're warning you now: don't sleep on our Black Friday Cigar Sales.
Whether you are buying a cigar for yourself or stocking up for gifts this holiday season, we know you're going to want to take advantage of these killer deals.
Smoke Inn is one of the most popular platforms for all cigar aficionados. We offer a large variety of products for you to choose from. To help you make your holiday picks this year, we've rounded up some targeted lists for you to browse to get premium cigars from your favorite brands at the best price of the year.
What Are The Best Cigars to Gift Someone?
If you are looking for a nice cigar gift this Christmas, here's where to start:
Rocky Patel The Edge Corojo 
Rocky Patel's The Edge Corojo is a full bodied cigar with the binder leaf from Nicaragua and other filler tobacco from Honduras and Nicaragua. The cigar itself is rich and flavorful, with tastes reminiscent of roasted coffee and ground nuts. If you want someone to remember your gift for years to come, then this cigar would be an excellent option.
Cohiba Connecticut 
The Cohiba Connecticut is a tobacco blend from the Dominican Republic, Brazil, and Nicaragua! The flavor screams of luxury. You can taste the notes of toast, sweet cream, cocoa, and subtle spice, which makes this a favorite to start your day paired with a nice cup of fine coffee. If you want an impressive gift, choose Cohiba Connecticut. The cigar is aesthetically pleasing and comes with attractive packaging that only complements its taste. It is easy to smoke, making it a great gift for newbie smokers as well as experienced ones.
La Gloria Cubana Serie R 
The Cubana series from La Gloria is the perfect gift for cigar enthusiasts. It gives you a richer-flavored smoke that was in high demand at the time of creation. This one truly is a full-bodied luxury. The binder is made of mixes from Nicaragua, with the wrapper from Ecuador. 
Best Cigars for the New Aficionado
Are you planning to try a cigar for the very first time? Perhaps you saw a friend enjoy one, and you want to experience the same. We bring you the best cigars for you to begin your journey: 
ACID Cigars by Drew Estate 
The ACID Cigars are a modern take of the original cigars, with a refreshing new taste that has set them apart. Their "infusion" process is a highly-guarded secret, but we can tell you the curing process is impressive, and takes months of time and intention. The artsy look of the cigar gives it an interesting vibe, but the unique flavor combinations are perfect for the curious smoker who likes to discuss the experience. ACID Cigars feature a fragrant, aromatic blend of pure ingredients, leaving the flavor profile for the smoker to decipher – which can be a very interesting experience for those starting their cigar journey. This is a fun one, enjoy it with your new aficionado.
Macanudo Cafe
The Macanudo Cigar is distinct in not only its flavor, but also in composition. Making each cigar requires time and effort, as it takes a long time to grow and cure. If you are looking for a jam-packed cigar right off the bat, then the Macanudo Cafe is the cigar for you. The manufacturers age their cigars twice and are the only ones to do so (believe it or not, many cigar makers have forgotten this age-old practice). What's more, the Macanudo Cafe gives you authentic taste and flavor. The wrapper is made of Connecticut shade, and the strength is not too strong, which makes it a perfect place to start for the new Aficionado. 
Best Cigars for the One Who Has It All 
These cigars from the Smoke Inn would be a great gift for your "knows-it-all and has-it-all" friend (come on, you know who they are). Prepare to impress:
Illusione Epernay 
The Illusione Espernay is one of the most awarded cigars to date. From the Illusione series, the cigar is a spin-off of a limited version, which is why cigar enthusiasts hold it in such high regard. The flavor is complex, and not everyone can gauge the aroma and the taste. Only experts usually can judge the notes and enjoy the mature taste. This delicate cigar is focused on nuance and finesse, as it packs in fine flavors for the most experienced palate. 
Arturo Fuente Anejo Reserva 
The Arturo Fuente Anejo Reserva is one of the most coveted cigars, as they have a unique Connecticut Broadleaf wrapper, making them a rarity. The wrapper is well-aged, which adds great flavor to the cigar. These cigars are not widely available, which adds to the exclusivity of buying or gifting one this year. 
Black Friday Cigar Sales Smoke Inn Gift Guide 
The sale will continue from Black Friday all the way to Cyber Monday, allowing you to save 20% on your favorite cigars. Here is a quick reference guide for all the cigars you can gift your loved ones this holiday season: 
You can either go for the individual pack, or buy bulk packs as stocking stuffers for your friends and family. 
Conclusion
Make the most of our Black Friday cigar sales this year. There is no better time to get yourself some high quality cigars, and give others the same. Head over and browse through the entire collection.