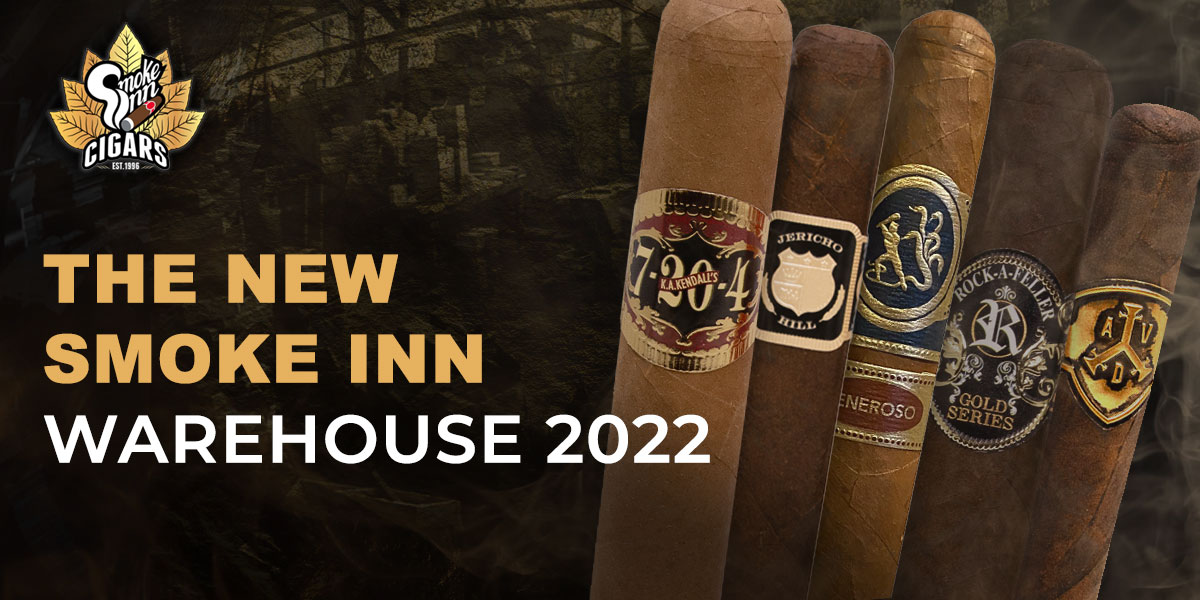 Smoke Inn is a leader in the cigar industry and we're just getting better with age. Our new warehouse lets us provide our valued customers with brand new products from some of the best cigar manufacturers in the industry. 
When we created Smoke Inn, we knew it would be amazing, but did we ever think we'd need a brand new massive warehouse filled to the brim with the best sticks we can find…yeah, we knew it would happen.
Our new digs officially open Nov. 1 and it has a state-of-the-art shipping station, so we can get your sticks to you fast. Our new warehouse wide humidification system keeps our brand new inventory of cigars fresh until you're ready to smoke them.
This isn't just an investment for Smoke Inn, but for our customers too. We know our business is going to grow as more people understand the joy of cigar smoking, so we're making room. 
This new Smoke Inn warehouse includes additional space to store cigar inventory and processes in place to help employees manage inventory. 
Making Buying Cigars Online Easier for Everyone
You might be asking yourself why we need a new warehouse. The reality is our business is growing and we want to provide the best experience for our customers and us too. We know you want your cigars as fast as possible, and you want more options when trying to find new favorites. This warehouse increases our speed to ship, enlarges the number of brands we can carry, and best of all, saves you money.
Here are some of the things our new warehouse lets us improve. 
Faster Shipping Times
We get our cigars out to you as fast as we can, but our new warehouse does it even faster. We've got a central location for our cigars and the most advanced shipping and fulfillment system we could find. You want cigars fast and we'll get them to you at lightning speeds. 
Improved Bottom Line
We're in the business to make a little money, so the less it costs for us to manage and ship our inventory, the more money we save. Do you know who reaps the benefits from that? Our customers because we can pass those savings on to you through lower prices. Warehouse workers manage and control inventory better, so it's a win-win for everyone. 
Risk Reduction
Business is all about supply and demand. You demand it, we supply it. We carry only the best cigars around, so it's a balancing act to make sure we have enough on hand to meet demand, but we also don't just want it sitting there. All this new space lets us store more in proper conditions to keep them fresh through fluctuations in business. 
More Space
Why does more space in a warehouse mean good things for you? Our inventory is shared currently by all our stores. This gives us a central location to work from. It's also 8,000 square feet, so we can store a lot of cigars and bring more variety to our inventory. You get more options and we get it to you faster. 
Better Shipping Station
Shipping can be a hassle when you've got inventory spread between so many places. A central warehouse lets us ship out from there in a safe and secure method. We know exactly what we have and where it's at. You don't have to worry about getting damaged goods because it's been shipped from one central place.
State of the Art Humidification
Everyone knows if you want to keep cigars safe and sound, then you need great humidification. It doesn't matter if it's your tabletop humidor at home or a massive one for our warehouse. Our new warehouse had an industrial humidification system to keep the whole place in the perfect condition for the cigars. 
It's the best on the market and looks like something out of Star Trek, but it keeps your sticks fresh. That's all that matters to us. We only carry the highest quality products, so you deserve to get them in the highest quality condition. 
New Inventory Available in New Warehouse
A new warehouse wouldn't be complete without new inventory for our customers. All that space is perfect for getting new premium cigars that we've never had before. Expect this to grow as the months and years go on as well.
Kurt Kendall's 7-20-4
Kurt Kendall's 7-20-4 cigars have a spicy and rich flavor from the burn. It includes vegetables, citrus, cocoa, and earthy notes. In the early phase, you won't notice any dominant note. However, in the first third, and middle notes, there would be a note of cocoa. Furthermore, these cigars include exotic pepper notes with a prominent taste of the retro-hale.
Vintage Rockefeller Cigar Group
This brand offers exquisite and excellent tasting blended cigars and includes perfectly aged tobacco. This brand produces products inspired by the age of American Enterprise. Each Rock-A-Feller cigar has a historic and rich flavor from the times of the Great Depression. Today, their legacy inspires the new generation to behold and manage their economic condition and build companies that change the course of the future.
ADVentura Cigars
The company offers an extensive line of cigars with a great list of flavors. Furthermore, ADVentura Cigars reward you with fulfilling and thicker smoke. For instance, their Conqueror starts with a black pepper profile, making a significant first impression. In the second third of the cigars, the profile gets robust with rockiness along with pepper. After you reach the midway point, you'll notice an emergence of creaminess with nuts and wood profiles.
Ferio Tego
The timeless collection by Ferio Tego is remarkably popular among cigar enthusiasts. Their Timeless Prestige is one of the best with cedar and raisin aroma. After perfectly toasting, the first puff of the cigar reveals brown sugar notes. By the time you reach the first third, you'll notice notes of oats and raisins. In the middle, you'll notice a touch of dried apricot and at the end the subtle pepper with brown sugar flavor.
Crowned Heads
Crowned Heads produce premium quality cigars with a combination of excellent flavors, great appearance, and perfect balance. Their La Coalición Siglo cigars have Connecticut Broadleaf wrappers with coffee bean color. The cold draw gives a blend of cedar, earth, and coffee smell, but when you'll start, the chocolate and mix paper notes become prominent as well.
Factory Smokes by Drew Estate
Factory Smokes by Drew Estate has a gentle strength when compared with other factory-made cigars. The flavor consists of sparks of pepper, espresso, cedar, and chocolate. The Mudoro wrapper is sweet, keeping the flavors constant through the finish. The strength of these cigars never goes below medium, but check out our blog to learn more.
A New Warehouse but the Same Smoke Inn
The new Smoke Inn Warehouse helps us bring new cigar brands with elegant flavors and tastes. It's a new era for Smoke Inn and for our customers too. It's through your constant support that allowed us to grow to where we are. If you want further information about our new warehouse and purchase a cigar, you can check our online shop.