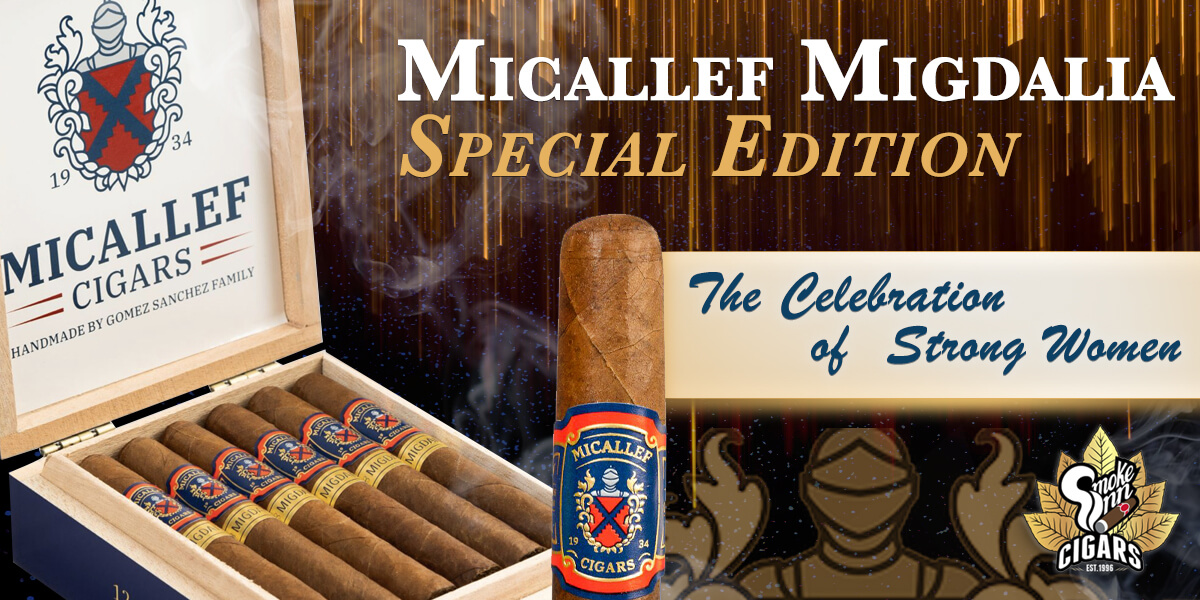 On March 8th, the world celebrated women on International Women's Day. While the celebration and recognition of women in all industries and aspects of life was going on, Migdalia Sanchez, the matriarch of the Gomez-Sanchez family, was hard at work releasing her latest annual release, the Micallef Migdalia Special Edition. This cigar was crafted specifically for release on International Women's Day to celebrate the strong women in cigars, and across all walks of life.
Micallef Cigars
Micallef Cigars is a collaboration between two inspiring families. Starting with the partnership of Al Micallef, a worldwide commerce expert, and Gomez Sanchez, a man with expertise in creating some of the finest cigars in the world.
Pedro F Gomez was born in 1923 and quickly began a career in tobacco, working for a factory in Cuba at just 11 years old. The following year he moved to Havana to work at a different factory and began learning the ways of the cigar industry. This knowledge he eventually took with him to Mexico, where he continued his journey.
Pedro Gomez's daughter-in-law Migdalia Sanchez was born in Cuba in 1947. Much like her father-in-law, she wasted little time getting into the cigar business, as she began studying at the School of Tobacconists in Havana, Cuba at 16 years old. When she was 17 she went to work for Partagas and soon became recognized as one of the best cigar rollers there was. Her hard work quickly began paying off as she was selected to represent Cuba multiple times in international showcases in countries such as Spain, Sweden, Peru, and others as well. 
Migdalia now spends her time living in Miami, but she still contributes heavily to the company there, as well as in the factory in Nicaragua. Her passion for cigars and her great work ethic has led to her winning multiple awards and being a true inspiration for women in the cigar industry. 
The Impact of Women in Cigars
Many people choose to think of cigars as an exclusively male hobby, but that is simply not the case. The impact that women have had in the cigar industry has been enormous to this point. It is with matriarchs dominating the industry in some of the biggest brands on the market. Included are Micallef, or Fuente. Some key influential cigar aficionadas include Cynthia Fuente, Berta Bravo, Sandy Cobas, and of course Migdalia Sanchez.
Cynthia Fuente is the daughter of Carlos Fuente and granddaughter of Arturo Fuente. They are two of some of the biggest names in cigars in the past 100 years. She grows up in a family surrounded by tobacco. Also, she has spent virtually her entire life working in the cigar industry. She now sits as the Vice President of Arturo Fuente, and she is oftentimes referred to as "The First Lady of Cigars."
Do you know about Berta Bravo, also known as "The Guayabera Lady,"? She is perhaps the reason why the guayabera is such a popular article of clothing in the cigar world. The shirt was originally designed for fruit pickers. It is with women making the shirts out of a light fabric and putting several oversized pockets on the front of the shirt. The fruit pickers have more space to put fruit.
But Berta Bravo began selling these shirts out of the trunk of her car in Miami. The fashion took off from there. Now the guayabera is almost synonymous with cigars. It is popular as the pockets are perfect for cigars and accessories. The shirts are lightweight and comfortable on a hot day. It is hard to go into a major cigar shop or cigar event and not see someone in a guayabera. It is a style that will never go out of fashion.
More Women in Cigars
Sandy Cobas is the brain behind the famous El Titan de Bronze factory in Little Havana, Miami. While her name might be slightly less well known than Cynthia Fuente or Migdalia Sanchez, she has had just as much impact in the industry as any lady of the leaf. Her factory is well known for manufacturing some famous blends such as Herrera Esteli Miami, La Palina Goldie, and the La Palina Family Series Miami, among others.
Migdalia Sanchez has spent her entire life around cigars. Now acts as the matriarch of the Gomez-Sanchez family. She is working with Micallef to produce world class cigars. This of course includes the Micallef Migdalia special edition. It is a yearly release celebrating the strength of women and their impact on the world of cigars.
Micallef Migdalia Special Edition
The Micallef Migdalia Special Edition cigar itself is an homage to women. Their strength and perseverance is evident in the cigar industry as well as all walks of life. This cigar was blended by Migdalia Sanchez herself and it is a wonderful smoke for anybody. Whether it is your first cigar, or you have been smoking cigars for years. 
This medium bodied cigar comes from Nicaragua and features a habano wrapper. This year's release comes in a corona size showcasing notes of white pepper, leather, and a smooth natural sweetness. The flavors on this cigar are the perfect complement to just about anything to pair with it. Some key recommendations would be smoking this cigar with a glass of white wine. Another is smoking shortly after a dinner featuring alfredo sauce. 
Sisters of the Leaf
The acronym SOTL or sisters of the leaf is commonly used to describe women who enjoy the hobby of smoking fine cigars. In the old days cigars were considered to be for men. The number of sisters of the leaf grows everyday. It is because cigars are not meant for any one person. They are meant for everyone, and everyone should get the opportunity. Well at least once in their life, to try a good cigar.
Like we said, cigars are for everyone, and Smoke Inn is for everyone. The Micallef Migdalia Special edition is a true representation of that, and if you want to try it for yourself, you can find it on our website, or in-store.