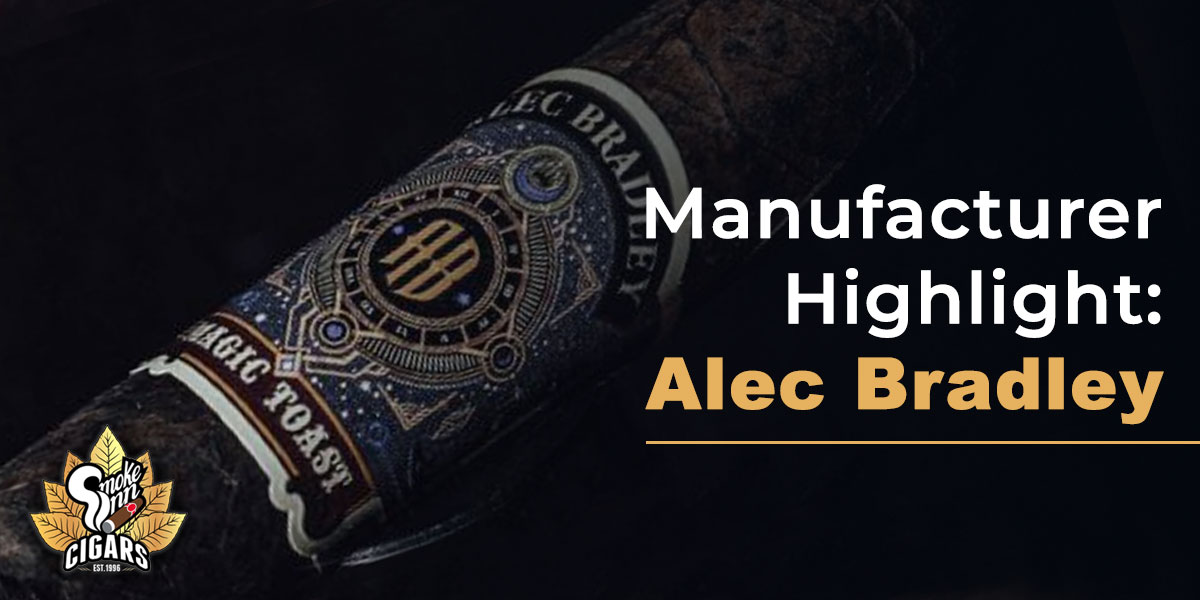 Alec Bradley cigars are rockstars of the cigar world. They're like Prince, Elvis and Van Halen rolled into a premium leaf and ready for a smoking experience that knocks your socks off. Through the years, the company created countless 90 + plus rated cigars and even won cigar of the year.
Smoke Inn is proud to offer a wide selection of Alec Bradley premium cigars, but what do you know about the brand itself? Cigar brands tend to be generational, but not Alec Bradley. It was started from the ground up and developed into a world-class brand through heartache, hardship, and hard work. 
The story isn't pretty, but it has a happy ending that everyone in the cigar world appreciates.
Humble Beginnings
You probably think the cigar brand was started by Alec Bradley, but that's your first mistake. Alan Rubin started the company in 1997 and named it after his two children, Alec and Bradley. Rubin was the son of a hardware importer, but cigars were a passion and not a family legacy. 
As Rubin began to learn the ins and outs of the cigar business, he marketed Bogey's Stogies to golfers who wanted to smoke on the course, but the inexpensive cigars didn't take off. He began the new millennium more than $60,000 in debt.
Rubin connected with industry professional Ralph Montero, who helped shape the direction of Alec Bradley. They created Occidental Reserve and mailed sample packs to more than 500 shops and then followed it up with phone calls. That's what we call, old school. 
Occidental was a hit, and they followed it up the uniquely triangle-shaped Trilogy brand. Until Tempus in 2007, all cigars from Alec Bradley were mild to medium-bodied. He made Tempus at Fabrica de Tabacos Raices Cubana in Honduras using Trojes tobacco from the Jalapa Valley of Nicaragua and it was a major success.
The Roller Coaster of Success
Alec Bradley was popular but hadn't reached the heights of fame like Arturo Fuente and other brands. It wasn't until they won the coveted number one spot in Cigar Aficionado with Prensado that everything exploded.
The growth was fast and uncontrolled. The company had issues keeping up with orders and it took a while for everything to click into place. It was a rough and amazing few years, but they came out on top and now sell between two to three million cigars a year. That's pretty good for the son of a hardware importer for cabinetry. 
It's been over twenty years since Bogey's Stogies and Alec Bradley can now say they are a generational business with Rubin's two adult sons coming aboard and creating their own offshoot, Alec and Bradley. They created the cigar brand Blind Faith using their own finances and followed that up with Gatekeeper. The company is under the umbrella of Alec Bradley but there is a distinct difference between the two brands.
Spotlight on Alec Bradley Cigars
Alec Bradley continues to strive for cigar perfection, and they've come pretty close. We'll take a look at some of their famous brands. 
Black Market
One of the most popular brands here at Smoke Inn is the Black Market. It's a 90-rated cigar with a black Nicarguan wrapper with fillers from Honduras, Panama and Ecuador. Medium bodied in strength, the Black Market contains Honduran and Panamanian long fillers with a Sumatra binder and a dark and sweet, oily Nicaraguan wrapper grown in the Jalapa Valley. With notes of spice and sweetness, this creamy smoke will definitely leave you craving more.
Strength:

Medium

Country:

Nicaragua

Wrapper:

Nicaraguan
Connecticut
Connecticut has an impressive 90-rating with notes of cedar, nuts and toast with a sweet finish.  Rolled with an Ecuador grown Connecticut wrapper, this is NOT your typical Connecticut wrapped cigar. With a tremendous amount of flavor and body in a mild to medium cigar, this is one of the very best cigars in the Alec Bradley lineup.
Strength:

Mild-Medium

Country:

Nicaragua

Wrapper:

Connecticut
Magic Toast
Scouring over tobacco in an nondescript field in Honduras, Rubin grabbed a bottle of whiskey and proposed a toast to the future of the company. This very tobacco go through incorporation into a significant blend made to honor the "magic toast" from that evening. Magic Toast is built exclusively from Honduran and Nicaraguan tobaccos. The blend begins with a select Honduran wrapper, with a drape over a double binder of Nicaraguan and Honduran leaves. This combination secures a gritty filler blend of Nicaraguan and Honduran fillers.
Strength:

Medium-Full

Country:

Honduras

Wrapper:

Honduran
Prensado
The famous number 1 Prensado is what put the company on the map. It has a 96 rating and a big award back in 2011. The cigars are medium to medium-plus in body, bringing in rich characteristics of freshly cracked pepper, rich leather, citrusy coffee, roasted nuts, and sourdough bread.
It used a signature Honduran Trojes wrapper as the main attraction. This leaf was joined by an all-Central American interior, including a Nicaraguan binder and fillers of both Nicaragua and Honduras.
Strength:

Medium-Full

Country:

Honduras

Wrapper:

Honduran
Tempus
Alec Bradley knew about the full-bodied tobacco for Tempus for years but waited for the right time to create it. Tempus means time. It was a departure for Alec Bradley, but it was a change that paid off. Tempus is a combination of Honduran Criollo'98 wrapper blended with Corojo and Criollo filler from the Trojes region of Honduras.
It's aged tobacco with a full-bodied yet smooth, satisfying smoke, rich and balanced with a subtle sweetness.
Strength:

Medium-Full

Country:

Honduras

Wrapper:

Honduran
Maxx
Maxx is another highly valued cigar in the Alec Bradley brand, originally released in 2005. The cigar showcases a complex, multinational blend, complete with a dark Nicaraguan wrapper, Costa Rican binder, and fillers from four countries including Honduras, Nicaragua, Colombia, and Mexico.
Strength:

Medium

Country:

Honduras

Wrapper:

Natural
What Sets Alec Bradley Apart
Alec Bradley is a brand from the ground up and pays close attention to detail in every aspect of their cigar making. The company's creed is to create the best product possible and they've succeeded. 
You can't get a more rags-to-riches story than Alec Bradley Cigars. It started from humble and nearly disastrous beginnings but became a legend in the cigar industry. There's no sign of slowing down, especially since Rubin's children are in the game.
Smoke Inn offers a wide selection of Alec Bradley cigars, so check them out and order them today.