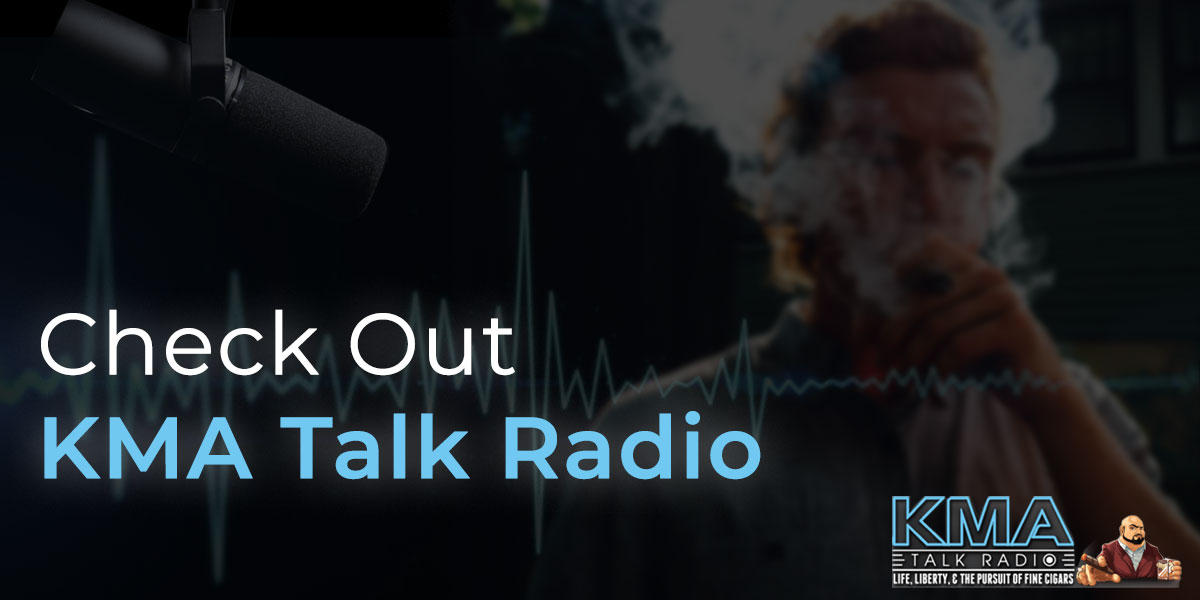 Did you know that the people behind your favorite cigar shop, The Smoke Inn, have their very own podcast called KMA Talk Radio: Life, Liberty & The Pursuit of Fine Cigars?
The Smoke Inn owner, Honest Abe, along with co-hosts Paul and Alex T provide the latest news and interviews from the cigar world and beyond. If you're new to the cigar world or a long-time smoker, you'll love the banter and information they provide.
It's so good, the podcast has been named the number one Cigar Talk Radio Show in the nation for the last nine years. Learn all about the talk radio show and why everyone loves the hosts and the subjects they cover.
Cigar News and Information
Every week, Abe and the group talk about the latest news and information going on in the cigar industry read by industry insider Will "Cigar Coop" Cooper. 
If you want to know what's going on with your favorite brands, the cigar industry, or anything else about the cigar world. It's the latest information that is then discussed by the group, often in some of the best comedic banter, you'll find anywhere.
Why read boring articles on the web or cigar industry newsletters when you can hear from some of the most knowledgeable people in the cigar world. When the group gets going, who knows where the conversation can end up.
Interviews With Cigar Insiders
Ever wanted to know about the ins and out of the Amendola Family Cigar Co from Jeff Amendola and Chris Monaco? Listen to Reinier Lorenzo of HVC Cigars or Scott Weeks of Recluse Cigars?
We have access to some of the biggest people in the cigar industry and they can't wait to talk to us. You'll see the biggest names in the cigar industry pass through our studios and discuss everything about the business, their personal experiences, and more.
Ever wonder why your favorite cigar manufacturer got into the business? Want to know about the latest blends coming out of their company? The guys at KMA Talk Radio get the scoop.
Interviews With Celebrities
It's not just cigar insiders that stop by KMA radio either. You'll hear from celebrity cigar smokers and hear about their cigar escapades. Everyone who is everyone smokes cigars, and we have them on our show. 
Who are some of the famous people that we've talked to? We have Captain Kirk and T.J. Hooker himself drop by the show and talk about his love of cigars. Famous NFL coach Mike Ditka, who famously led the Chicago Bears to a Superbowl victory in 1987. Mayor Rudolph Giuliani, who dealt with the aftermath of 9-11. 
We've had everyone from politicians and actors to sports stare come on our show and talk about everything from what they love about smoking cigars to some of their most famous stories and memories. You never know what we'll get them to talk about.
Then There Are the Hosts
Honest Abe – Born and raised in Chicago, he's a diehard Cubs fan and owner of The Smoke Inn. He moved to Florida in 1996 and began his first retails store. There's now more than 12 retail location and a thriving online business as well. He has more than 20 years of experience in the cigar industry and is a driving force. When you talk to leading cigar experts and brands, mention Honest Abe and they know exactly who you're talking about.
Paul – Paul has been on the radio in one way or another since he was 17 and has done it all from an on-air DJ in New York, national television and performing improv and stand-up comedy. He loves cigars and pairing them with small batch bourbons. 
Alex T – Alex T is a long-time cigar lover, born and raised in South Philadelphia. He moved to South Florida in 2009 and recently transitioned to the cigar industry. He considers himself the true Italian of the team.
Coop – William "Cigar Coop" Coopers visits and talks about the news and happenings of the cigar world. He's the founder and editor of Cigar Coop, an online publication about the cigar industry. He's also the co-host of the Prime Time and Prime Time Special Edition Podcasts and former on-air host of the Smooth Draws Radio Show.
What Sets Them Apart
There are lots of cigar podcasts and radio shows out there, what makes KMA Talk Radio: Life, Liberty & The Pursuit of Fine Cigars different from the rest? You get some of the best news and interviews from the cigar world because of the outstanding reputation and cigar background the hosts have in the industry.
They're major players and have the respect and admiration from all levels of players in the cigar industry. Listeners know when they tune into KMA they're getting information straight from the horse's mouth.
They get the leaders in the industry, celebrities, and more to divulge their best cigar memories and detail their new products in the cigar industry. 
It's not just the information that people love. When the hosts get going what they create is pure magic. Their funny and entertaining every time and you'll laugh along with them.
Tune Into KMA Talk Radio: Life, Liberty & The Pursuit of Fine Cigars
Don't take our word for it, check it out live from 10 a.m-12 a.m. Eastern on Facebook live and watch past episodes on our website kmatalkradio.com. You can even watch them on iTunes.  
If you're looking for a refreshing and entertaining take on the cigar industry from industry experts, then look no further. If you want a fun radio show, don't worry, they're that too. You don't have to be a cigar expert to love KMA Talk Radio.

This Week on KMA Talk Radio – Eddie Tarazona

Check out our upcoming episode this Saturday, September 18th at 10 a.m. Eastern where we sit down with Eddie Tarazona of Tarazona Cigars. Founded in Miami, the boutique cigar company has been manufacturing the highest quality premium, long-leaf, hand-made cigars since January 2002.
Looking for the latest news and information about the cigar brands you love? Want to hear from leaders in the cigar industry talk about new products and their history? Wish you could learn about the cigar habits of your favorite celebrities and sports heroes? We have all that and more on KMA Talk Radio.
If you want more information about our podcast, check out our Facebook page or visit us at kmatalkradio.com.