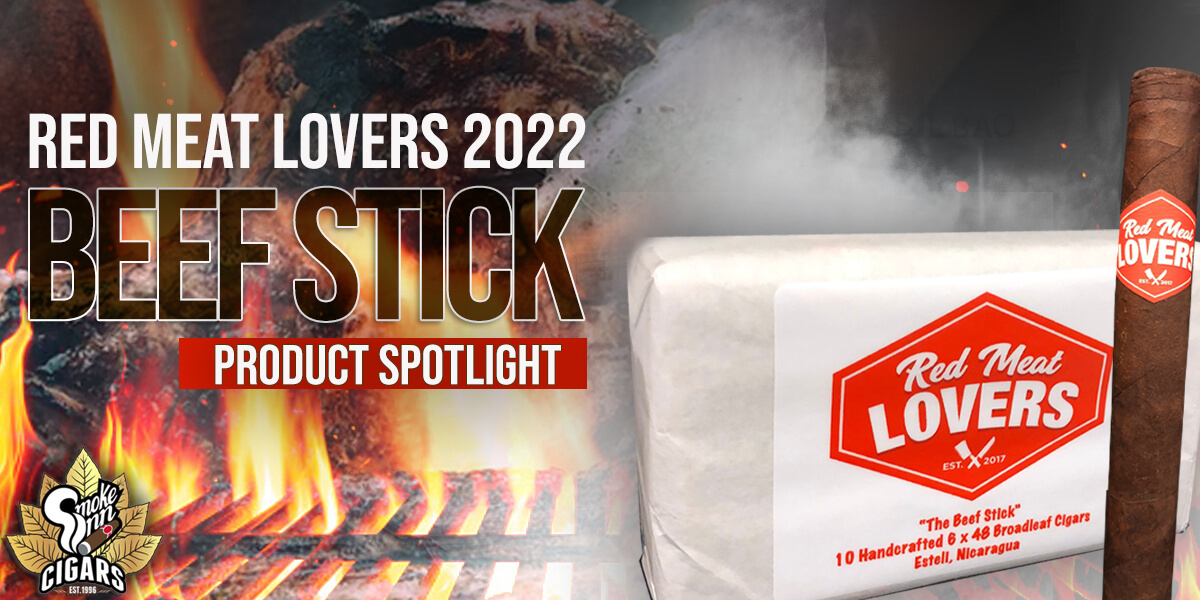 Enjoying a perfectly cooked slab of red meat with a great cigar is an unparalleled experience. So, the "steaksmen" of the Red Meat Lover's Club have joined forces with Smoke Inn. A partnership with the legendary cigar maker Steve Saka to create 2022's ultimate meat-pairing cigar: The Beef Stick. A quick look at the Red Meat Lover's Club, pairing tips, and pre-order info shines a light on this exclusive cigar.
The Red Meat Lover's Club
The Red Meat Lover's Club (R.M.L.C.) is a collective of meat-loving individuals coming together for the love of meat. The idea for the R.M.L.C. started in 1994 while founder Evan "The Secretary of Steak" Darnell attended Tulane University. He formed the club as an answer to a group promoting vegetarianism. Darnell's club proved a hit, reaching 300 members by the time of his graduation.
Now  in Florida, the R.M.L.C. is a nationally recognized dining club with new chapters emerging across the country. The club's success results from a commitment to a lifestyle built around meat, cigars, spirits, and shared experiences. According to the club, this celebration of meat and smoke is driven by four central beliefs:
Friends, associates, and strangers alike must join together over large quantities of meat.

Cigars are ideal companions for meat and conversation.

Friends toast to each other's successes when cigars and meat are present.

The goal of both personal and business relationships is to strengthen the club as a whole. 
With membership ranks and a list of business partners continually growing, the Red Meat Lover's Club hosts a broad spectrum of curated events, offering members of all walks of life opportunities to enjoy friendship, red meat, drinks, and cigars. At the heart of it all is the original concept which the is the foundation of the club: Creating the spirit of goodwill by developing the perfect marriage between red meat and cigar smoking.
Pairing Cigars and Red Meat
Cigars and red meat often carry similar flavor profiles, so the two are natural pairing partners. Of course, the preparation of the meat is a major component of pairing, yet success also lies in choosing the right cigar for the job. Since cigar flavors can range far and wide, it is best to zero in on cigars with a rich, full-flavored "meaty" quality, especially when paired with a hearty spirit, such as whiskey.
Cigars featuring Nicaraguan tobacco leaves are meat-pairing favorites due to the earthy richness and complexity of the tobaccos. Savory and sweet Mexican San Andres leaves are also highly reputable, as are other darker tobaccos such as Connecticut Broadleaf. 
These tobaccos most often share flavor profiles that ideally match that of juicy red meat. When a master blender brings together these tobaccos, the results can lead to a rapturous sensory experience. There is no better example of the blissful possibilities of a great meat-pairing cigar than the rich and tasty Red Meat Lover's The Beef Stick by Steve Saka.
The Red Meat Lover's Club Beef Stick
Steve Saka is a master blender renowned for creating exciting, outside-the-box blends for Drew Estate and now with his own Dunbarton Tobacco & Trust. Saka's expertise is on full display with every edition of the Red Meat Lover's cigar series, especially the 2022 edition dubbed The Beef Stick. 
The Beef Stick is a 6″ x 48 cigar handmade to Saka's exacting instructions at Nicaragua's NACSA cigar factory, home to other Saka creations available at Smoke Inn, including the popular Mi Querida and Umbagog lines. Saka blended the Beef Stick to achieve optimal meat-pairing capabilities with a recipe that features:
Wrapper: USA Connecticut Broadleaf No. 1 Dark

Binder: Mexican San Andres Negro Oscuro

Filler: Select leaves from Nicaragua and USA
The cigar's blend offers an uptick in body and taste over previous editions, delivering a full-bodied yet smooth smoke bursting with peppered steak, smoked hickory, sweet molasses, raw cocoa, chicory, and fatty umami notes. The Toro-size cigar also features a flat head and closed flat foot that adds yet another dimension to a thrillingly memorable cigar smoking experience available for pre-order only at Smoke Inn for a limited time.
Beef Stick Cigar Pre-Ordering
While the Red Meat Lover's Beef Stick already has meat and cigar lovers everywhere stirred into a frenzy, the tentative delivery date is November 2022. The limited-production Smoke Inn-exclusive Beef Stick will sell out, so pre-ordering the cigars now is the only way to ensure delivery once cigars are ready to ship. 
There are a few points to know before reserving:
Deposit
You must place a $25.00 deposit to reserve a Red Meat Lover's Beef Stick bundle. The deposit is applicable to the full cost of the cigars. The deposit is non-refundable. 
Paying Balance
Once cigars are ready to ship, you will receive an email reminder to pay the balance (minus the deposit). You have 30 days to pay the remaining balance. The cigars will be shipped immediately once full payment is received. 
No Promos
As these are limited production exclusive cigars, any promotional codes or other offers are not available to use with the Red Meat Lover's Beef Stick cigars. 
Limited Pre-order Window
Pre-orders will determine the final number of cigars produced, so it is important to reserve your order as soon as possible. The reservation period has a limitation. Once the pre-order window is closed, no more pre-orders will be accepted.
If past editions of Red Meat Lovers cigars are any proof, then 2022's offering won't be available for long. So do not wait to put your deposit down for a chance to get these sumptuous limited-edition smokes. Instead, secure your reservation at Smoke Inn now. 
Savor the Harmony of Meat and Cigars 
Cigars and red meat are a match made in heaven. Nobody pairs them better than the Red Meat Lover's Club, Steve Saka, and Smoke Inn. The Red Meat Lover's Beef Stick cigar is a meat-pairing legend in the making. So, shop at Smoke Inn and taste the meat and smoke perfection before it's gone.