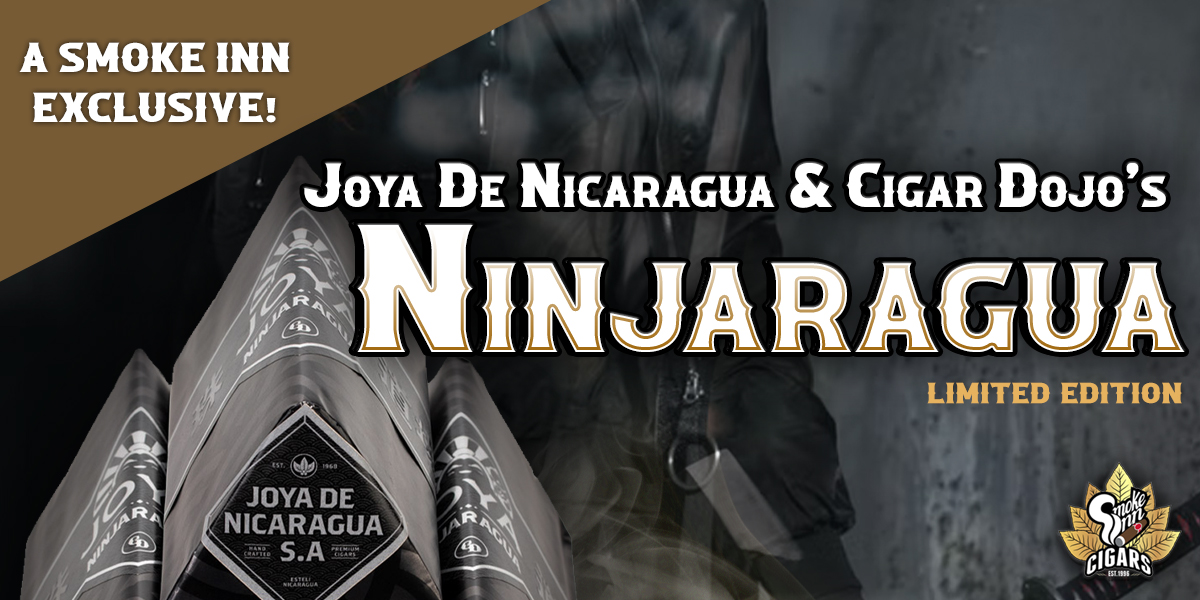 The Joya Ninjaragua, one of the most legendary collaborative smokes ever, is back for a second run in 2022. The wildly popular cigars set the cigar world ablaze in 2020 and are sure to reignite taste buds once again. The cigars are only available at Smoke Inn, but they won't be around for long. So, learn everything you need to know with this quick guide. This will ensure you get a taste of Ninjaragua cigars before they disappear.
The Ninjaragua Collaboration
The Ninjaragua concept is a collaborative effort between two of the cigar industry's most dynamic entities. One is an innovative cigar maker, and the other is a pioneering social media platform catering to cigar smokers everywhere. The cigar-making expertise of Joya de Nicaragua, combined with the power of cigar-centric social media offered by Cigar Dojo, is at the root of the historic Ninjaragua Collaboration.
Joya de Nicaragua
Joya de Nicaragua began operations in 1968 as Nicaragua's first cigar brand. By the 1970s, Joya de Nicaragua cigars were amongst the most sought-after in the world. It is the favorites of dignitaries and celebrities. Revolution and civil war, however, gripped the Central American nation, halting cigar production and leaving the cigar factory in ruins. 
The cigar factory is a rebuilding process by its workers. Take note that the brand struggled to find a significant foothold in the cigar markets of the 1980s and early 1990s. Yet the cigar brand found new life in 1994 with the arrival of Dr. Alejandro Martinez-Cuenca. Acquiring the Joya de Nicaragua name, Dr. Cuenca guided the storied brand into its most prosperous era. Today Joya de Nicaragua stands as one of the most popular cigar brands on the market and is a frequent collaborator with Drew Estate, Cigar Dojo, and others. 
Cigar Dojo
Cigar Dojo revolutionized how cigar lovers interact with each other and with cigar makers. Offering the first and most popular social cigar app, Cigar Dojo provides a daily social hub for cigar lovers. It is to stay connected and get honest cigar reviews from fellow enthusiasts about all the latest smokes. Cigar Dojo continues to thrive under the guidance of Cigar Dojo owner Eric Guttormson and his team of cigar fanatics, with over 100,000 downloads and upwards of 40,000 active Cigar Dojo members. 
Even more impressive is the expansive library of collaborative cigars Cigar Dojo has offered since it began partnering with top cigar makers in 2013. Cigar Dojo has had a hand in creating many of the most talked-about cigars in recent memory, collaborating with Drew Estate, Aganorsa Leaf, Espinosa, and many others. However, no other cigar collaboration has created as much buzz or sold out as quickly as Cigar Dojo's Ninjaragua project with Joya de Nicaragua.
The Joya Ninjaragua Story
The Ninjaragua emerged from a Cigar Dojo-sponsored trip several years ago to Drew Estate's famous Cigar Safari, an all-inclusive tour of Drew Estate's and Joya de Nicaragua's cigar factories and tobacco plantations in and around Esteli, Nicaragua. The Cigar Dojo group is trying several sample cigar blends. These cigars formed the basis of what would later become Ninjaragua cigars.
The feedback provided by Dojo members about the samples let teams at Joya de Nicaragua and Cigar Dojo zero in on a single recipe that was fine-tuned until every last nugget of goodness could be extracted from the tobaccos. Once an optimal size was settled on, a name was chosen to reflect Cigar Dojo's popular ninja theme and the cigar's Nicaraguan origins. 
The result of Joya de Nicaragua and Cigar Dojo's efforts was the original Joya Ninjaragua released as an exclusive to Smoke Inn in 2020. The cigars rank among the fastest-selling Cigar Dojo collaborations ever. Once again, Smoke Inn is proud to host the special edition Joya Ninjaragua new cigar release for 2022.
Joya Ninjaragua New Cigar Release 2022
The Ninjaragua is an exclusive small-batch addition to Joya de Nicaragua's JOYA line of new world smokes, comprised of the Red, Black, Silver, and Cabinetta series. The Ninjaragua 2022 features the same 6" x 50 Toro size and richly textured tobaccos as its 2020 predecessor. The blend includes:
Wrapper: Nicaragua Habano Criollo

Binder: Nicaragua

Filler: Nicaragua
The Maduro-clad Nicaraguan Puro is handcrafted at the Fábrica de Tabacos Joya de Nicaragua factory in Esteli, Nicaragua, and packaged in the now-famous triangular bundles of 6 cigars. The three-sided package represents the three pillars of the collaboration: Cigar Dojo, Joya de Nicaragua, and Drew Estate.
The Joya Ninjaragua delivers a velvety medium-to-full bodied smoke with all the complexity and sophistication experienced palates crave. In addition, the beautifully balanced smoke offers a smooth and approachable experience. It is perfect for even the most casual of cigar smokers. The all-Nicaraguan tobacco blend is bursting at the seams with dark notes of chocolate, espresso, earth, and salted caramel that deliver a rousing finish. 
Production is limited to 3,300 cigars exclusively for the US, so only 550 Joya Ninjaragua bundles are available for purchase. The Joya Ninjaragua is available exclusively at Smoke Inn while supplies last. If 2020 is any indication, the Ninjaragua by Joya de Nicaragua and Cigar Dojo is sure to be gone in a flash!
How to Get Ninjaragua Cigars
There is a limited number of cigars and high demand. With that, you don't want to miss a chance to get these legendary smokes. The Joya Ninjaragua new release with Cigar Dojo is available to order on April 15, 2022. The only way to get a 6 pack of these special edition cigars is to visit Smoke Inn online. However, the Ninjaragua new cigar release is sure to sell out fast. With that, do not hesitate to snatch them up, or you might miss these historic cigars.
Master the Art of Cigar Smoking Harmony
The Joya Ninjaragua made history in 2020 and is sure to do it again in 2022. The unique origin story, complex Nicaraguan tobacco blend, and wildly satisfying flavor profile make it the must-have cigar of the year. So, don't let the cigars slip out of your grasp. Shop Smoke Inn to capture your own Joya Ninjaragua.