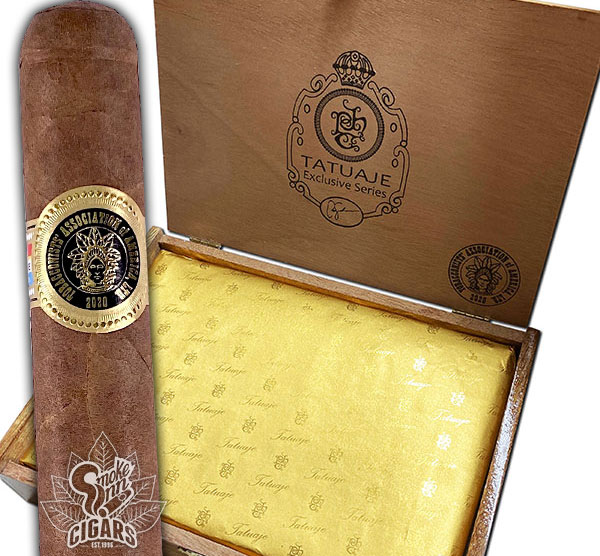 Tatuaje TAA 2020 - 5 Pack
For only the third time since Tatuaje first launched the now-legendary Tatuaje TAA cigar in 2011, the company has unveiled a new TAA blend. Indeed, Tatuaje has released exclusive smoking experiences for retailers that are members of the Tobacconists' Association of America (TAA) for nine consecutive years, making the 2020 addition the 10th cigar to date.
While most Tatuaje TAA cigars are simply new sizes of the same preexisting Broadleaf-wrapped blend, the Tatuaje TAA Exclusive Series 52nd flips the script, now boasting an immaculate Ecuadorian Sumatra wrapper over all-Nicaraguan binder/fillers. The cigars are rolled in the same 5⅝" x 54 soft-pressed size that was used on the very first Tatuaje TAA release in 2011 (as well as the 2015 release), handcrafted at the acclaimed My Father Cigars factory in Nicaragua, as usual.
Tatuaje TAA Exclusive Series 52nd focuses more on fine-tuned flavor intricacies than the full-throttled performances of past blends. This includes well-balanced, tangy nuances of medium-roast coffee, aromatic cabinet spices, toasted caramel, savory meat drippings, hickory, and much more. Cigar enthusiasts and collectors be warned, only 3,000 boxes (which are also redesigned for 2020) of the Tatuaje TAA 2020 are in circulation, with company owner, Pete Johnson, noting that the cigars—being the 10th Anniversary release—are "possibly the last [Tatuaje TAA release]."
*No promotional codes or offers available with these items
Country of Orgin : Nicaragua
Wrapper : Maduro