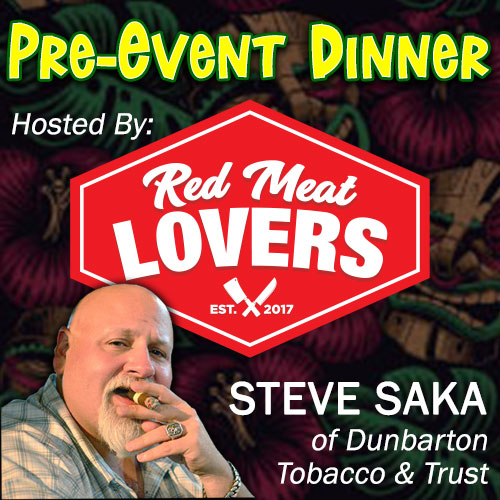 RMLC Pre-Event Dinner
Friday, February 25th @ 7pm – South Florida Fairgrounds
Exclusive VIP Private Luau at South Florida Fairgrounds hosted by Red Meat Lovers Club and Steve Saka of Dunabrton Tobacco & Trust – VERY Limited availability!
Includes special 3 pack of DT&T cigars valued at over $45, which will include 1 extremely limited edition Red Meat Lovers Beefstick cigar, 1 Sobremesa Brulee Toro and 1 Sin Compromiso No. 5!
Red Meat Lover's Club has had 2 years to plan a meat luau and every meat idea will be implemented. The goal is to have one table with 200 steaksman enjoying all the meats. Custom, personal meat tongs will be included and used by each guest to enjoy the suckling pigs that will be set forth on the communal table…..after a parade of passed meat influenced apps.
Watch Steve Saka and The Secretary of Steak sweat with anxiety, when they realize they won't be able to finish all the meats set forth in front of them.
Elastic pants encouraged and please don't fill up on the apps.
MENU
SEXZ Passed Hors D'oeuvres
7:00 PM – 8:30 PM
SEXZWANGS
SEXZBACON
Carmelized Sweet Glazed Hawaiian Beef Bun Burger with Teriyaki Drips
Hawaiian Shrimp Skewers
SEXZ Family Style Dinner
9:00 PM – 10:00 PM
(4) 35lbs Whole Fully Cooked Pigs
Slow Braised Pork Butt
Off the Bone Short Ribs
Jas-E-Jas Open Flamin' Stir Sticky Fried Rice, Coconut Milk, Garlic & Shaved Ginger
Crisp & Crunchy Cabbage Slaw
Green & Purple Tender Carrots with Aromatic Cilantro & Red Wine Vinegar Vinaigrette
Sweet Hawaiian Rolls
SEXZ Sweet Desserts
10:00 PM – 10:30 PM
Bourbon Flaming Donuts
Chef Flambe Glazed Donuts in Aged Bourbon Brown Sugar Butter Sauce
Vanilla Ice Cream
SEXZ Caramel Squirt
Size:
n/a
Pack:
n/a
Notes:
ALL SALES ARE FINAL. NO REFUNDS, RAIN OR SHINE. SALES TAX IS INCLUDED.