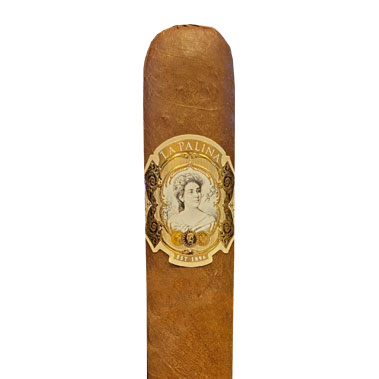 La Palina Goldie Laguito No. 6 - 5 Pack
The famed Goldie series first debuted from La Palina in 2012 with the Goldie Laguito No. 2 cigar in 2012. Since this time, La Palina has showcased a new size of the ultra-premium blend on an annual basis, being among the most anticipated limited releases for discerning aficionados each year.
For 2020 the Goldie debuts for the first time in a 6 1/2" x 56 toro gordo format, offering a significant change of pace for a series that often focuses on traditional, thin-gauged formats. As with other recent Goldie releases, the entire allotment of cigars have been rolled by a single torcedor—Lopez "Chino" Perez—at the boutique-minded El Titan de Bronze factory in Miami's Little Havana neighborhood. With 25 years' experience at the famed Real Fabrica de Tabacos Partagás factory in Havana, Perez is considered among the most talented cigar craftsmen in the world. This has long been the primary draw for the Goldie series, showcasing a top-tier tobacco blend in unison with top-tier artistry.
The cigar's blend remains the same as with years past, sourcing Dominican and Nicaraguan tobaccos at the core of the recipe. These leaves are joined by an Ecuadorian binder and finished with a gold-hued Ecuadorian Habano wrapper. The experience is medium-light in body and full in complexity, with the newfound large ring gauge now placing added emphasis on the Nicaraguan and Dominican interior. This makes for a voluminous smoke output and finely tuned flavors of clean cedar, aromatic florals, buttered nuts, bitter espresso, and loads of sweet cream.
*No promotional codes or offers available with these items
Country of Orgin : USA
Strength : Medium
Wrapper : Habano