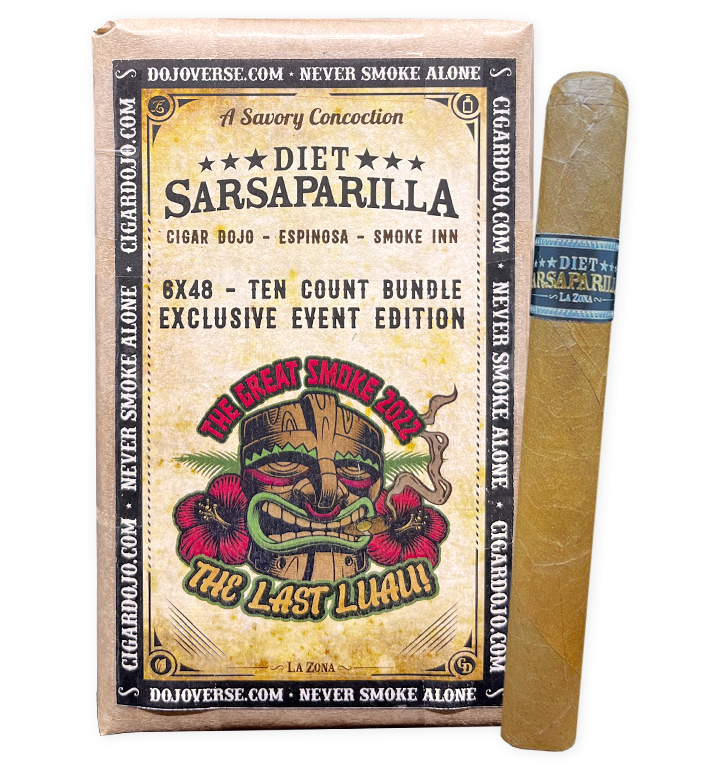 Diet Sarsaparilla - TGS2022 Exclusive
Fans of Espinosa and Cigar Dojo are well familiarized with the duo's vintage-themed Sensei's Sensational Sarsaparilla releases, using dark Mexican wrappers and all-Nicaraguan fillers to offer a unique profile that is sometimes likened to sarsaparilla soda in profile. Now, for the first time, the legendary "Sassy" receives its counterpart smoking experience with the Diet Sarsaparilla, available exclusively to TGS 2022 ticket holders.
As the Sarsaparilla is a special project for the Espinosa and Dojo teams, the task of blending a light-wrapped variant was not taken lightly. This begins with a bronze-hued Ecuadorian Connecticut wrapper, which is secured over the cigar's pièce de résistance—a double binder that includes both Nicaraguan and Mexican tobaccos. This allows for continuity from the Mexican-wrapped original to the smooth (yet surprisingly full) experience of Diet Sarsaparilla. Finally, the cigar includes all-Nicaraguan fillers from the Jalapa and Condega regions. Only 500 bundles of 10 cigars will be available, which will go up for sale on Jan. 12th during the live TGS virtual broadcast event.
Orders will begin to ship immediately. Please allow 2-3 extra days for processing.
*No promotional codes or offers available with these items