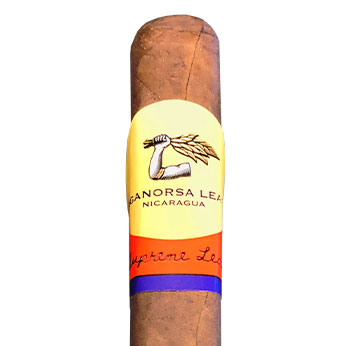 Aganorsa Supreme Leaf Box Pressed Toro - 5 Pack
If your typical Aganorsa Leaf cigar is as old school as your grandma's cookies, then the Aganorsa Leaf Supreme Leaf is like taking her recipe and whipping up a batch with your newfangled 3D food printer. Okay, maybe it's not the best analogy, but Aganorsa's latest offering does involve familiar ingredients with a high level of precision and the vibrant stylings of the 21st century!
Meet the Supreme Leaf by Aganorsa Leaf, offering smokers an old-school concoction of tried 'n true Cuban-seed tobaccos while kicking things up a bit with an amped-up body and some of the most eye-catching packaging you'll come across in a humidor. The blend is harvested entirely from the company's own farms throughout Nicaragua, including a Corojo '99 wrapper and Corojo-heavy tobaccos throughout the binder and filler. The end result is a figurative punch to the face with rich, mouthwatering flavors and visuals, including highlights of brown sugar sweetness, graham cracker, freshly cracked peppercorn, toasted oak, and raw cinnamon.
Act fast, as Supreme Leaf is crafted in extremely small batches that have been known to completely sell out within a matter of weeks! Whether you love the look or not... Signature Leaf is guaranteed to leave an impression—both in look and flavor!
*No promotional codes or offers available with these items
Country of Orgin : Nicaragua
Strength : Medium
Wrapper : Corojo