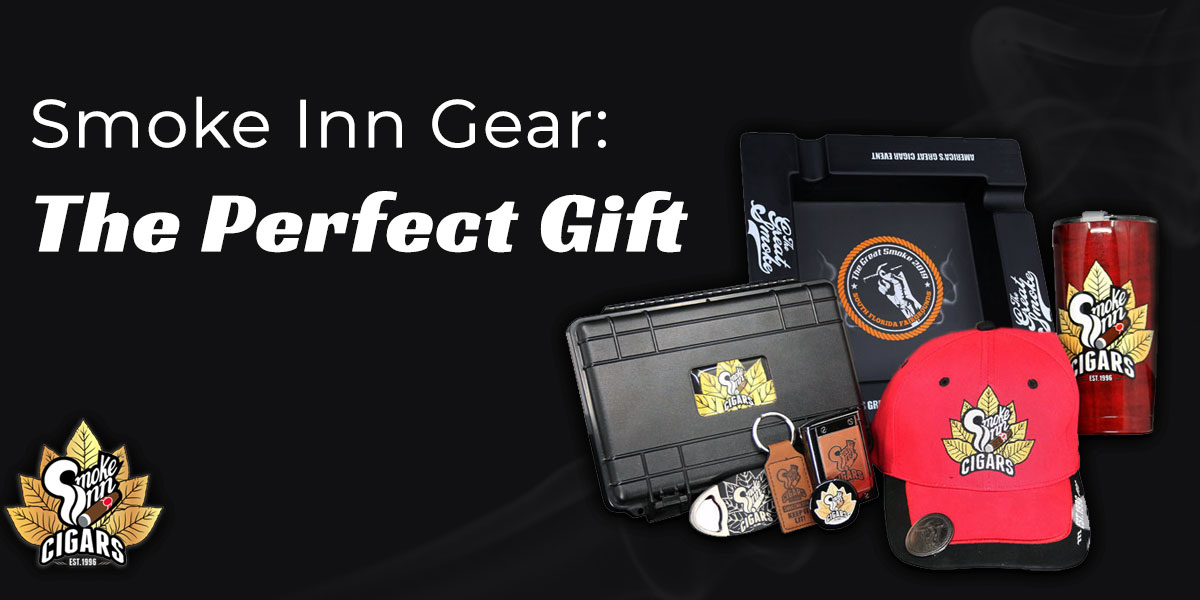 In the cigar world, The Smoke Inn is a big deal. We're not even mentioning the amazing show, KMA Talk Radio. We know there are fans of our brand, so we created the best gear to show your support for The Smoke Inn.
When you wear our gear or buy our products, you're getting not only some great gear, but the attitude and style that goes with it. We make sure our gear is the very best and won't give out on you in a few months. 
It withstands washing and the occasional beer or bourbon spill. Check out some of the coolest gear we have to offer our biggest fans. 
Smoke Inn and KMA Shirts
We have several shirts available featuring the attractive logos of both the KMA radio show and Smoke Inn. There are several designs from the blue wave KMA T-shirt to the Brotherhood of the Leaf. With so many different types available, why not pick up a few. The price is right.  
Our shirts come in a variety of sizes to fit everyone from the skinniest to the burliest cigar aficionado. They're priced to sell and make a great addition to any wardrobe. We have them for men and women because women love smoking cigars just as much as men. Check out our selection and enjoy the best gear in the cigar world.
Smoke Inn Hats
Everyone needs a good hat or two in their wardrobe. They keep away the sun and look great on those not-so-good hair days. Why bother combing at all when you can slap on a Smoke Inn hat and head out for the day. 
We have several different hats available from the Back in Black SnapBack hat to the collectible KMA Talk Radio hats. We know you listen to our show, so why don't you have them already? Our hats come in black, camo, and other colors to fit any style and taste. Just like our shirts, these hats are priced to sell, so get them while you can.
They're fashionable, look great, and have our logo, how can you get better than that?
The Great Smoke Ashtray
Need a place to put your sticks and celebrate one of the biggest cigar events in the world? The Great Smoke is one of the premier cigar events and we've been proud to create it since 2007. Every one is unique and you can celebrate it every day with your own The Great Smoke Ashtray.
The black ashtray features The Great Smoke Logo and looks great on a coffee table or on your desk. When you're spending the evening enjoying a great cigar and remembering your own The Great Smoke experience, place your stick in The Great Smoke Ashtray.
Smoke Inn Cigar Cutters
Every cigar lover needs their own cutter. It's just part of being part of the cigar world. We crafted several different cutters that feature our logo, so you can keep a little piece of us with you wherever you go. We have the Smoke Inn Perfect Cut straight cutter, the Lotus Meteor Cigar Cutter, 60 Ring Gauge Double Guillotine Cutter, and the Perfect Stainless Steel Cutter.
These are some of the most attractive cutters around. When you use them, people know you shop at one of the best cigar shops around. These cutters give you the perfect cut every time, so grab all four and complete your set.
Smoke Inn Lighters
The only thing more important than a cigar cutter is a cigar lighter. There's something about the way it perfectly lights the end of a cigar for the perfect smoke that you can't help but love. We have several different cigar lighters to choose from the Smoke Inn Zidane Single Torch Lighter to the hades Triple Torch Lighter.
Lighting a cigar is an art and you learn it quick when using our branded cigar lighters. We have one to fit every style you have and they have a great price too. They're durable and look great, so grab yours today. 
Smoke Inn Travel Cases
Cigar smoking isn't something you just do at home or at Smoke Inn's Cigar lounge. It's something to take with you wherever you go. Do you travel a lot and are tired of your cigars drying out or breaking during the trip? You spend a lot of money on those cigars, so keep them safe with the Smoke Inn travel case. 
We have three different sizes: small for 5-10 cigars, medium for 15, and large for up to 30. Whether you're taking a few on the road or packing many to hand out at your favorite watering hole, we have a case to fit your needs. 
Don't Forget Our Swag Packs
When you visit our gear page, there's a lot to choose from. It can be hard to make a decision, so we packaged some of our best sellers into awesome swag packs. You get a little bit of everything with these Smoke Inn swag packs. 
We have two to choose from: the regular and supreme swag pack. Each comes with a cigar cutter, hat, key chain, and travel case, but the supreme also includes The Great Smoke Ashtray, a cup, and a few more surprises.
Don't know what to buy that cigar aficionado friend for their birthday or need something special for the holidays? Our swag packs make the perfect gift. They're priced far below retail, so not only are you getting a great gear pack, but also getting it at an amazing price. 
Grab Your Smoke Inn Gear While You Can
You never know when our top sellers will run out and it may be a while before they come back in stock. There are others that relate to specific events, so they're first-come, first-served. Don't hesitate to grab your Smoke Inn Gear and take our style and attitude with you wherever you go.
Check out our complete inventory of items from keychains to cups and more. If you're looking for a gift or just to add something cool to your collection, then Smoke Inn Gear is right for you.