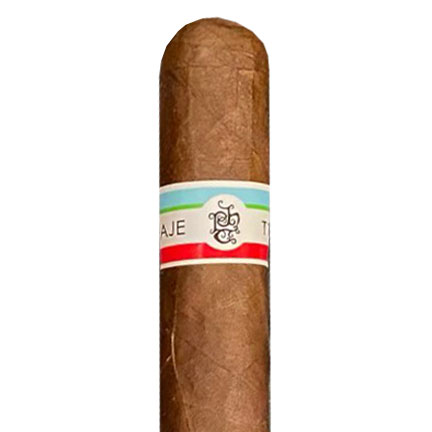 Tatuaje T110 LE Habano
In the canon of Tatuaje limited releases, hardcore cigar hobbyists and collectors look back most fondly upon releases such as the Pork Tenderloin, CQ1, Anarchy, and the T110 (among many others). The latter dates back to 2009, where an extremely small number of ligero-stuffed cigars were released exclusively in Hawaii. Tatuaje T110 draws its codename from a test blend known as Thermonuclear, where company owner, Pete Johnson, showcased perhaps the strongest smoking experience in his arsenal.
In recent years, Tatuaje has begun rolling out their most beloved limited blends, now available in larger numbers for cigar enthusiasts across the country. This includes the Tatuaje T110 (2021), showcasing the same nicotine-bomb recipe as the original release. But that's not all... ol' Pete Johnson showed that he still has a few tricks up his sleeve, debuting the T110 in two new wrapper styles for 2021: Broadleaf and Sumatra.
There are three varieties in total, officially dubbed Tatuaje T110 Habano (the original), Tatuaje T110 Reserva Broadleaf, and Tatuaje T110 Capa Especial (Sumatra). Each version boasts the same core of Nicaraguan ligero tobaccos from the Jalapa and Estelí growing regions, offering full-bodied experiences with unique differences from the given wrapper styles. This includes highlights of red pepper and leather with the Habano, bittersweet espresso and black licorice with the Broadleaf, and cinnamon and toasted caramel with the Sumatra.
*No promotional codes or offers available with these items
Size:
4.375 x 52
Pack:
25